Behind closed doors: Is there a future for Myanmar's fisheries?
2 June 2016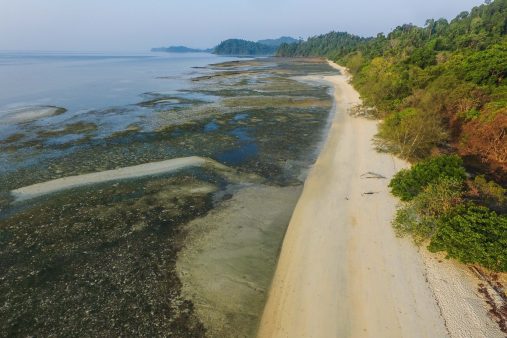 Benjamin Jones, Research Assistant, Sustainable Places Research Institute
In a world where so much is known, it's not very often that you get to lead a research expedition to a relatively remote archipelago, that, from the outside, looks almost untouched and pristine. Also, within science it almost seems impossible to investigate something new, or conduct research into something that nobody has studied before. Myanmar is unique in this sense, and so too was my expedition. My goal was to investigate the extent to which seagrass meadows support fish biodiversity within the Myeik Archipelago. Until now, a complete unknown.
When I've told people that I recently spent two weeks in Myanmar, exploring how to expand our seagrass research to this isolated Asian nation, I've mostly been greeted by puzzled looks. Clearly, few know much about the myth-shrouded land known more familiarly as Burma.
People from all walks of life however, have heard of Nobel Peace Prize winner and social activist, Aung San Suu Kyi, who struggled for many years against a repressive military government, but is now working within the political system to test the boundaries of the developing "Burma Spring." The emergence of democracy and progressive political thought in Myanmar is especially important to our seagrass work, and global fisheries as a whole, where The Republic of the Union of Myanmar is the world's 10th largest fishing power and one of the fastest growing.
The Myeik Archipelago, in far southern Myanmar, consists of more than 800 islands, varying in size from very small to hundreds of square kilometres. Its virtual isolation from most of mankind's influence has given the islands, and the surrounding area, a great diversity of flora and fauna. This was apparent as soon as I entered the region where on the islands themselves various animals thrive, including deer, monkeys, numerous tropical birds and wild swine. Although the majority of the islands are uninhabited, a 2000 strong local population of sea nomads, called the Moken, inhabit the area. These sea-dwelling people follow a traditional way of life, fishing and building boats very much the way they have done for centuries.
The area was picturesque, with dense rainforest, white sandy beaches and turquoise waters. Everything seemed pristine, untouched and almost perfect…until I got in the water that was.
It was here, amongst the large and dense expanses of seagrass that fringed the islands, that I noticed an anomaly. There were no fish. Literally, not a single one. Now, I've experienced seagrass meadows in numerous locations across southeast Asia before, where we know overfishing is problem, but nowhere has startled me as much – and nowhere else made me so upset.
Seagrass meadows globally provide crucial nursery grounds for juvenile fish, and in this remote area, the seagrass should have been teaming with life. It may seem difficult to grasp why this is such a big issue, so imagine a village without any children. Fast forward a few years and no children means no more adults, which in turn, means no more children. The village and surrounding areas would be deserted. Now imagine if this were happening in every single village. That's the problem.
While Myanmar is beginning its economic emergence, it remains desperately poor, and greatly relies upon fishing. Yet, the productivity of the fisheries is dangerously low and in serious threat of total collapse, as fishermen scramble to catch everything that moves, from tiny baby fish to adults. This desperation threatens not just the well-being of more than 53 million people who depend on fish for 43% of their animal protein, but also the health of the incredible coral reef and mangrove ecosystems. With no recruitment to reef fisheries, these fisheries are now on the verge of collapse.
The Moken don't catch fish anymore. The majority have now turned to squid and cuttlefish for their primary source of protein, of which they're now catching far far less than they did 5 years ago. Is this fishery doomed to collapse too?
It's difficult to point the finger in Myanmar, and its apparent that the Monken, who've inhabited the area for centuries, are not to blame. In the small mainland town of Myeik alone, which acts as a gateway to the archipelago, there must have been over 1000 boats in a stretch of water no longer than 2 miles. These fishers, who come from all areas of Myanmar to fish in the region, have no sense of ownership and no desire to preserve stocks for the future. Vast amounts of illegal Thai shrimp trawlers are also present in the region, where it almost appears like they have free reign over Myanmar's coastal resources. In fact, they do, if you've paid the right person at least…
As much as the fish situation is depressing, the people of Myanmar are one of the happiest I've ever seen. I was welcomed with open arms and great warmth by simple fishermen whom had almost nothing. The Myanmar people understand that their world is changing, but are also aware that the prosperous future they hope for and deserve can't be achieved without partnerships with people and organizations that care about their country and the broader world we share. They want change, but in their rapidly changing country they need direction.
One such organisation is Flora and Fauna International (FFI), whom I was fortunate to work with during my trip. FFI have excellent work underway, and have been in the region since 2012. With dedicated scientists, managers and fishing industry representatives to explore partnerships, FFI have everything that's needed to be effective in such an unfamiliar cultural context.
Trying to comprehend what has gone on here, for so long and behind closed doors, is no easy feat. But now these doors are open, and by building these strong partnerships, it's possible that there may be a future for Myanmar's fisheries yet.