Appetite for Change
23 June 2020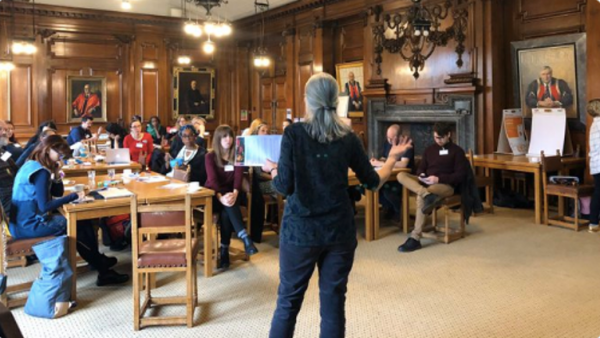 Hannah Pitt and Esther Muddiman
In October 2019 WISERD co-hosted a collaborative workshop with the Sustainable Places Research Institute and the Wales Governance Centre to discuss the environmental and social justice considerations of food systems in Wales. The event brought together a range of experts – including policy makers, civil society activists and other stakeholders to assess the major challenges facing current food systems, and to identify pathways towards creating a more sustainable and socially just system in Wales and beyond. The event was recorded by our fantastic visual facilitator Laura Sorvala.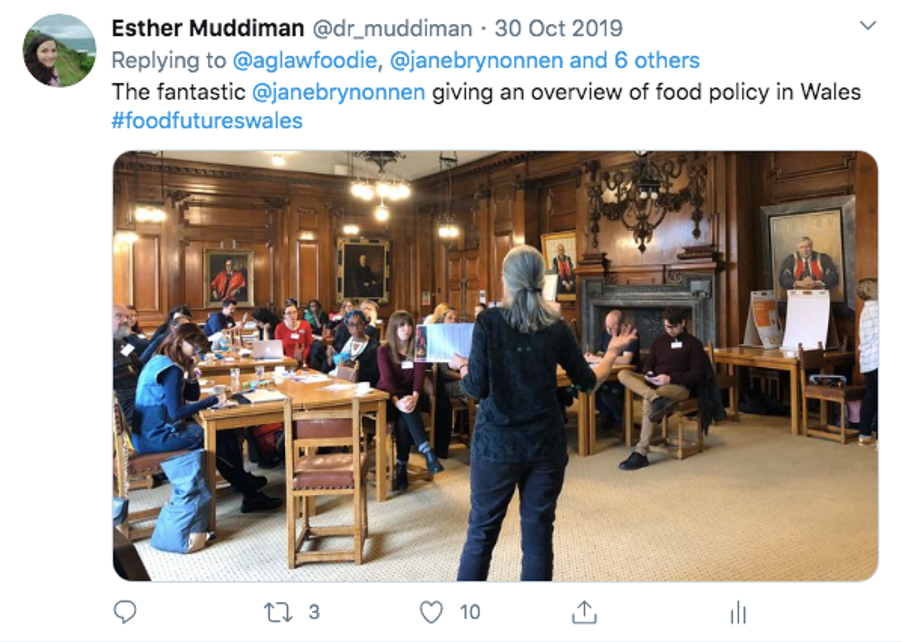 Here we outline the key messages and issues for consideration:
The picture in Wales
There are good examples from all over Wales of people doing good things with food from both sustainability and social justice perspectives – from care farming to horticultural training, and from community meals to education. Examples explored on the day included contributions from:
Active Food Citizenship
The challenge is in scaling up these initiatives to engage more people in a collective effort to address urgent problems including climate change, health, and loneliness. A shift from the passive role of the consumer, towards active food citizenship, could provide a means through which individuals, as members of communities, develop a sense of agency.
Visibility
A key message from small group discussions was that good things are happening but often go unseen. Mapping good practice around Wales would help to connect disparate groups and spread ideas and inspiration.
Building Local Partnerships
There is an obvious disconnect between small-scale, highly responsive grassroots activism and slower, more bureaucratic governmental approaches. During the workshop it became clear that strong local partnerships are important for bringing together farmers, growers, food businesses, community groups, policy makers and researchers to exchange information and explore opportunities for mutual support.
Public Procurement
Public procurement is a powerful way to relocalise food production, stimulate new supply chains and regenerate the rural economy in Wales. This fits with recommendations from the Rethinking Food in Wales report, and Prof Kevin Morgan's Good Food for All, and evidence from the Preston Model indicates that local procurement can put money into the local economy whilst building local democracy.
Joining up Policy
Another key message from the event was the need for better connections across farming, food and drink policies. A broader Welsh food strategy, incorporating these strands and others (health, poverty, culture) could take inspiration from the RSA's Food, Farming and Countryside report: Our Future in the Land.
Tackling food poverty and sharing food culture
Some participants identified a lack of understanding of nutrition and a lack of food preparation skills as a major barrier to eating and living more affordably and sustainably. Even amongst those not affected by food poverty, in many homes across Wales and beyond people lack the confidence in their ability to cook from scratch, to be creative with 'imperfect' vegetables or with cheaper cuts of meat. Addressing these issues could have far-reaching benefits for health and wellbeing. A proper approach to food poverty would ask fundamental questions about what it is to be a citizen, and the right to a good diet.
Addressing labour and skill shortages in the food industry
Work in the food industry is often associated with long hours, low pay, being exposed to the elements outdoors or carrying out unpleasant tasks in abattoirs. There are, however, many different employment opportunities in the sector, and it is important to find ways to attract the right people. Schools, food businesses and colleges are working together to fill the gaps, but we need to share more widely the idea that feeding a nation is a vital necessity and a rewarding challenge.
Strengthening connections in the food supply chain
One of the main products of Welsh farming is red meat, but only around 5% of this produce is eaten in Wales, the rest is exported. Meanwhile, the largest sector of the food and drink industry in Wales by cash value is drinks – such as bottled water and gin. We could be looking for ways to bring production and processing closer together. A greater focus on growing and processing fruit and vegetables would be beneficial from economic, health and sustainability perspectives.
Next steps…
Our first priority is to map out some of the great initiatives happening in Wales and to create a repository of information that can be regularly updated with the latest developments. This would foster connections between individuals and groups in different parts of Wales, aid communication and build capacity.
The research team is in the process of applying for further funding to enable us to put this plan into action.
Workshop Organisers
Esther Muddiman is a sociologist based in WISERD (SOCSI) with a particular interest in civil society, sustainability and youth engagement. Her current project explores the intergenerational sharing of values and practices linked to civil society and how people make choices about food in relation to family, environment and sustainability.
Hannah Pitt is a human geographer based at Sustainable Places Research Institute (GEOPL). She is a Sêr Cymru II Research Fellow focusing on skills and knowledge for resilient agri-food systems. She also works in partnership with Food Power – a collaboration tackling causes of food poverty – and has experience of liaising with Welsh policy makers.
Ludivine Petetin is a legal academic based in the School of Law and Politics. She researches agri-food-environment governance issues. In particular, a central aspect of the research focuses on food democracy and how citizens can create the food system they want.
Jane Powell is an independent education consultant and writer with long experience of public engagement with food through previous work at Organic Centre Wales and LEAF Education. She now works with community groups through Renew Wales, coordinates the Wales Food Manifesto and is an organizer of the Wales Real Food and Farming Conference.
This event was supported by Cardiff ESRC Impact Acceleration Account, which promotes the dissemination of social sciences research for wider social benefits.