Action to address the Climate Emergency
4 June 2019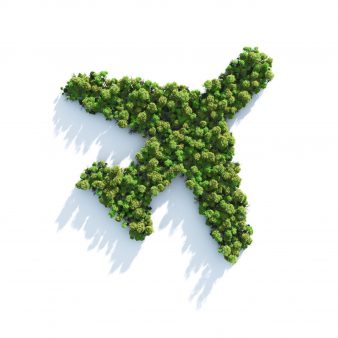 Public awareness of the need to act on climate change has never been higher, making it particularly important that Universities, as the educators of future generations, should be at the forefront of enacting societal transformation. We see opportunities for Cardiff University to demonstrate leadership and innovation in institutional change.
There are a number of areas where the university could make great strides, as centres learning promoting Education for Sustainable Development for all; greater emphasis on incentivising and actively supporting interdisciplinary and transdisciplinary research and collaboration; improvements in operational infrastructure, including the introduction of a strong and ambitious sustainable travel policy.

Here at the Sustainable Places Research Institute we have calculated a carbon budget for Cardiff University. Annually the University produces 26,000 tonnes of carbon from international travel (flights). We've been conservative in our estimates so this represents a minimum budget. Two thirds of our carbon emissions from travel come from international student flights which make up nearly 14,000 tonnes of carbon! EU student flights makeup 908 and staff travel adds up to 6,526 tonnes of carbon. We need to fly less to ensure these emissions are reduced.

We suggest that Cardiff University should commit to reducing the amount of air travel undertaken by both staff and students. To this end the Sustainable Places Sustainable Travel Group has developed a number of recommendations, which could be adopted by the University in both the short and medium term;

Short term

Identify a baseline level of air travel from the last year by reviewing available financial records.
Update the funding request form to include a section which enables the applicant to indicate whether they have considered alternatives to travel, and how the emissions it will generate demonstrate good value.
Commit to no staff taking flights within the UK and recommend that rail alternatives are used where feasible.
Support over-land European travel where possible.
Medium to long term

A shift away from international field trips in student courses and towards place-based community-engaged learning opportunities could improve both the university's efforts towards Education for Sustainable Development as well as their civic mission, whilst offering a considerable reduction in air travel.
Organising a forum to bring together teaching staff already implementing community-engaged learning in their courses – and support those who would like to adapt their courses to move towards pedagogies which offer rich learning whilst reducing the need for air travel – and aspire to integrate Education for Sustainable Development across Cardiff University teaching
Trialling innovative ways of delivering research and engagement without the need for travel, e.g. hosting virtual conferences.
PLACE is in full support of this agenda. However, even these actions taken together are unlikely to completely eradicate the need to fly. And if we do, there is an option to balance our carbon.

Regrow Borneo will be launched in September. It is a evidence-based project led by PLACE and the Danau Girang Field centre.

Regrow Borneo gives people who do fly the opportunity to donate and regrow the forest, helping save orangutans and other species under threat. These donations will be invested in local communities, who will plant trees in previous palm oil plantations or along rivers to create wildlife corridors to restore and regrow the rainforest.

It is hoped that the project will benefit the rainforests in this area of the world which are among the most biologically diverse habitats on the Earth, home to a diverse population of species such as orangutans, Sunda clouded leopards, Malayan sun bears and Bornean elephants.

We believe that taken together the actions outlined above have the ability for Cardiff University to both respond to the climate emergency and demonstrate transformational leadership in this area.