Tourism development in three Mexican towns
24 August 2018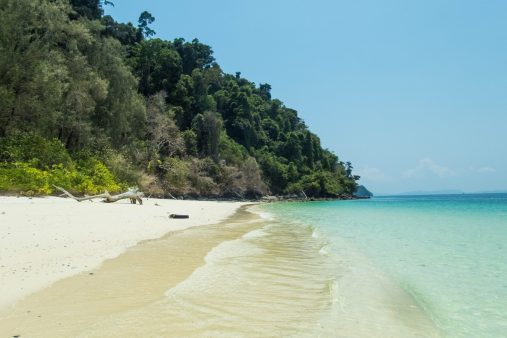 Annie Tucker, 
Research Assistant
During a five-month placement as a research assistant of PLACE's Dr. Angelina Sanderson Bellamy, Annie Tucker investigated tourism development in three different Mexican towns with interview and spatial data. The first of two projects briefly examined the settlement history and tourism rise of two Quintana Roo towns (Tulum and Punta Allen), and then analysed household interview and focus group data collected from the Land2Coast project within the same towns.
In the 1970s, Tulum started to promote alternative tourism, which has transitioned into mass tourism within the past decade as its majority tourism-worker population has grown to over 32,000 residents in 2015, up from just 62 residents in 1960 (Instituto Nacional de Estadística, 2015; Juárez, 2002). This town's previously ubiquitous Maya community has been marginalised by newcomers, who, themselves, have rarely fully realised their hoped-for economic prosperity. Conversely, Punta Allen shares the same colonial and Maya history as Tulum, yet this nearby, isolated town of 500 people has a small-scale ecotourism industry, limited by its UNESCO Biosphere Reserve designation and closed-off fishing and ecotourism cooperatives (Cunningham, 2013).
Key findings of Annie's research include determining that the Punta Allen interviewees felt significantly more community support than those in Tulum; the latter town was found to have a more transient community, as evidenced by time-in-town and generations-in-town variables. Regarding economic findings, the respondents in both towns were evenly divided on whether they felt they could meet expenses with their incomes. The main themes of the Tulum focus group were changes from development and safety and community concerns, themes that were absent from the Punta Allen focus group.
This unique comparison of Punta Allen and Tulum, close towns with dissimilar contexts, can be related to current research on generational changes, rapidly increasing migrant or immigrant populations, economic dependence on tourism, isolation versus globalisation's impact on community strength, changing traditional economies, cultural sovereignty, and a diversity of local opinions on the future of tourism-based growth. More temporal and causation studies should be conducted in these towns or in the state to better advise planners, officials, and community groups.
An offshoot of this research is an examination of illegal tourism developments in Quintana Roo, with spatial analysis. In a partnership developed by Dr. Angelina Sanderson Bellamy between PLACE and the Centre for Environmental Law in Mexico (CEMDA), raw aerial images from 2008, 2016, and 2018 were stitched together and used to identify illegal developments lacking Environmental Impact Authorisation permits. Due to inadequate images of Tulum, another rapidly developing tourist centre in Mexico was examined: Holbox, Mexico, which is in a biosphere reserve. Between 2008 and 2016, this research identified 72 illegal developments: 23 with a known establishment name and 49 currently nameless. These results have supported CEMDA's ongoing litigations, including one court proceeding against 36 developments. CEMDA has images from more flight paths over Quintana Roo dating back to 2004 that future researchers will hopefully study with regards to various inquiries, including the ecological impact (especially relating to mangrove deforestation) of all the illegal developments.
To find more research related to the Land2Coast project, visit its website.

SOURCES:
Instituto Nacional de Estadística. (2015). Encuesta Intercensal 2015.
Cunningham, E. (2013). Catch Shares in Action: Mexican Vigía Chico Cooperative Spiny Lobster Territorial Use Rights for Fishing Program. Environmental Defense Fund.
Juárez, A. (2002). Ecological Degradation, Global Tourism, and Inequality: Maya Interpretations of the Changing Environment in Quintana Roo, Mexico, Human Organization, 61(2), 113-124.