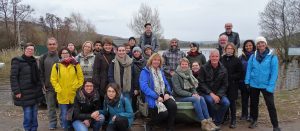 Lorena Axinte, Early Stage Researcher
Catia Rebelo, Early Stage Researcher
Abid Mehmood. Research Fellow
Matthew Quinn, Distinguished Visiting Fellow
Imagine a two-week gathering of researchers, academics, consultants, social disruptors, social entrepreneurs, public servants and artists, debating, learning and sharing knowledge and personal journeys in sustainability science. Add some charming set-ups – including Bute Park, Cardiff Bay and the Brecon Beacons National Park, delicious and locally sourced food, as well as some unconventional workshops. That was the SUSPLACE spring training session in a nutshell.
A diverse agenda
After Wageningen, Leuven and Aveiro, it was Cardiff team's turn to organise and host a two-week training session at the end of March 2018. The preparations took around 5 months in which Catia, Malin, Lorena, Omer, Abid, Matthew, Usha and Terry used the feedback and input collected at the end of the previous training sessions to design the programme.
The most important aspect was to have lectures, workshops and activities suited to the ESRs current needs, since they have just started their third and final year. The attendees had the opportunity to develop and share their intellectual skills and research, discuss ways of tackling everyday challenges, and observe research, policy and practice in action.
The weeks were divided into two stand-alone yet integrated modules. The first module – Sustainability Science and Placeshaping – focused on debates around key challenges in sustainability thinking, participation and co-production. During the week, the participants visited Cardiff Bay and met Mark Drakeford, Cabinet Secretary for Finance and Local Government in Wales.
The work in the second week focused on the challenges of Spatial Development in Science, Policy and Society nexus. Participants took part in several research capacity and analytical skills building activities and had a hands-on workshop on the life of a civil servant. Professor Katherine Gibson held a public lecture, presenting some uplifting cases of businesses and industries which might be up to the challenges of the Anthropocene.
An inspirational visit
The wonderful Brecon Beacons National Park (BBNP) was an obvious choice for a field trip. Besides allowing participants to explore the picturesque setup, the visit showcased the good collaboration between Cardiff University and the BBNP Authority. The participants gained a greater insight into Catia's research project, Place Ambassadors, meeting some ambassadors and members of the local community and learning about some of their place-shaping activities carried in the area. Kevin Walker – what a suitable name for a tour guide! – led a walk around the Talybont Brinore tram road, while Jim talked about the plans for developing a new toilet at Llangorse Lake. Both Jim and the lake will be starring in Catia's next documentary, so watch this space!
And some novel experiences
Among all the interactive and engaging sessions, a few stood out. Simon Johnson hosted a gaming workshop that stretched our creativity for ways of turning big ideas into simple and engaging games. Fern Smith created a safe space for reflection and dialogue around sustainability narratives, emphasising the importance of accepting 'darker' feelings. Last, but not least, Poppy Nicol presented the Global Gardens Project where the ESRs made a small contribution to the community garden.
What next?
With only one year left, the SUSPLACE family will be meeting again in Riga (September 2018) for the last training session and Tampere (May 2019) for the final conference. Until then, the ESRs will be busy wrapping up and harvesting the results of their field work.