Noosa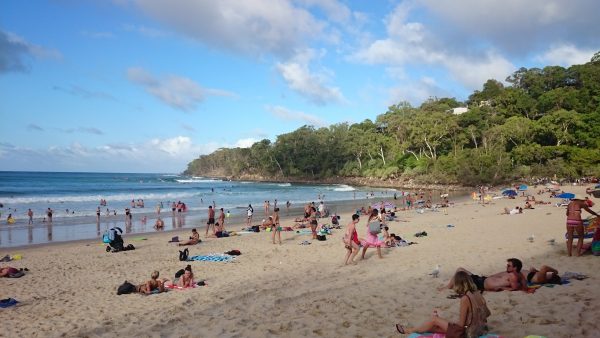 Posted on 14 Feb 2017 by Lyndsey Stoodley
The first time in surfed in Noosa I took advantage of a free rental opportunity and took a big foam board from my hostel, lugged it down to the beautiful main beach and into the crystal clear, warm water. It was to be the only time that I ever surfed alone in Noosa. Not because I had gone earlier than everyone else, or had travelled far to a remote spot, or was the only one stupid enough to miss a shark warning, it was simply so small a wave that nobody else bothered to acknowledge it as a wave. It was only my size and the size of the board which enabled me to catch any of the ripples that were coming through at all. When the waves in Noosa are more than half a foot high, the points are packed out around the coastline, the surfers resembling an oil slick or algal bloom, hugging the rocky outcrops, sitting patiently, sliding effortlessly to the beaches, then moving back around to join the queue to go again.
While it was in no way epic in the way surf stories tend to be, that first surf in Noosa made a big decision for me. I was travelling at the time and wasn't sure what to do but lying on my board that tiny evening I realised that I really liked small waves, big boards, and this place. I set about finding work once back at the hostel and ended up making Noosa my home for 4 months. After a brief stint as a bus driver, I worked in a beachfront bistro, lived in hostels and share houses, earnt some money and made some great friends. I also spent a lot of time in the water and on the beaches.
I bought a scooter and a surfboard which made getting to the beach much easier and more flexible. This did also produce some sketchy moments, however. Like the time the board rack came loose and sent my board swinging horizontally into the road, or the time I dropped my bike cos the rack had shifted and I couldn't put my foot down, or the first time I was able to take the board out early (no longer relying on hostel buses) and I went to a new spot and got dragged over the oyster beds. I had a few scratches that bled so much that I looked more like a run in with a shark than brush with some mollusc. I could go on but the point is I could go surfing every day and, more often than not, I did. I would wear my surf gear, throw something long sleeved over it. Put on some closed toe shoes (sensible scooterer) and zap the 10 minutes over the hill into the national park. I'd often park near a koala, or just by other scooters like mine. I'd hide my key in my shoe, cover it with my long sleeves, unclip my board and away I would go. It was the best, so convenient and easy. I could go anywhere, I was pretty fit and I was getting a bit better at surfing and understanding the area.
In a hostel I ended up semi living in, I became part of something which I suppose was a kind of short term surf gang- a small group of us who would get in the water whenever we could. We were all backpackers and none of us were great surfers; we were really good at enjoying ourselves though, and we'd often seek out the worst surf in the area. This was so that there were fewer people to get in the way of and more space to enjoy our surroundings and our situation; a place and time which was more free and more fun than any I can other remember.
Later I would also go surfing with some more experienced surfers; colleagues from work who lived in Noosa and other tropical paradises. This was nice and I learnt a lot. Including that I should be much pushier in a crowd; I also learnt however that I don't mind sitting in the water for hours waiting for a wave, watching everyone else have theirs. So not much improvement was made on this front.
Each time I'd go out I'd see or notice something extra. We'd see turtles, jellyfish and even dolphins. The sky at sunset was often full of the most wonderful colours and the scenery was spectacular, both in the national park, and the other beaches in Noosa. Sometimes, on small days, when it was quiet, the old locals would give us a few pointers to help us improve, "see that step over there? paddle for that first and then go the other way". Other times everyone in Noosa would be in the water- from 4 year olds who already surf better than I ever will, to 84 year olds who are still doing things right. There was little time for small talk in times like these. it was always more intense when the crowds picked up and I never really got to grips with it; something I'm still struggling with now.
The waves though are built into life in Noosa. From beginner friendly white water at the main beach groin, to mellow Little Cove which is full of longboards and ladies, round to Boiling Pot, Granite or Sunshine Beach with their respective rocks, huge paddle outs and rip currents that are not for the faint hearted, there is a wave for everyone. So, everyone seems to try to catch their wave.
Surfing often shapes how people plan a day, week or even career and this was clear in Noosa. Hospitality was huge so the working week is shifted, people woke up early, tourists came to visit, backpackers got trapped by all that it had to offer. When the waves were working, the car parks were full and there was an excitement in the air.
I recently visited the town again. It's still beautiful, it's still busy and surfing is still the main attraction. Without my gang, and my beat up old board though I didn't feel I needed to battle the crowds so I sat on the rocks and watched it all unfold through nostalgia tinted sunnies.