It's actually a bit like Aberavon…
20 January 2017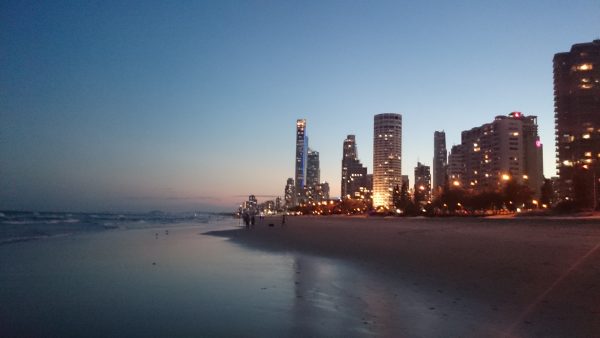 After a couple of days having China reminding me how much tougher it is than me (we'll save those stories for another day, or you can check out https://shenzhenigans.wordpress.com/ for a glimpse of my time there in 2013), I arrived exhausted in Australia. I don't seem to be content with making things easy for myself though, so continued on my merry way by train, bus and boat from Brisbane airport straight to North Stradbroke Island.
I had been here before in 2012 and met a German friend, Sarah, who has remained on the island pretty much ever since. She had agreed to meet up again and was to be my host for the weekend, picking me up from the ferry port in a very Aussie camper van and driving back through beautiful scenery across the island to her studio by the beach.
Having been away for over 4 years, going straight to a nice place resulted in a wonderfully short Australian re-immersion programme; a brief journey filled with kangaroos, bird song and oversized cars brought back a thousand memories, all of which had been sent to the back of my mind but not quite forgotten about. The place is spectacular. The beaches, cliffs, wildlife and the not Chinese food were all a very welcome sight and I enjoyed a couple of days of recovery, discovery and well, I cant think of a word for beer that will go nicely with that combination, but I reckon you get the idea. The time came though when I had to think about going back to school, so I set off on my multimodal transport mission south, to a place that is known as Surfers Paradise by name, but not necessarily by nature.
High rises dominate the coastline and skyline, and everywhere you look there seems to be neon signs and garish posters advertising every kind of tourist attraction that can be crammed into a small town on a big beach; theme parks, wax works, bars, buggy tours, boat trips, boat parties, boat rentals… this place is built on the water. To its east is the wild open beach that stretches the full length of the region, to the west is an intricate series of waterways.
Geographically I have struggled a little because my bearings just cant catch up with the fact that there is water everywhere. Politically, the area is also a little confusing. Both a city and a region; Gold Coast City is, I believe, centred around surfers paradise, with the gold coast region stretching from South Stradbroke Island down to the New South Wales Border. I think I'm slowly learning all about this though, and much much more…
I started at Griffith University on Monday morning, the Monday morning when they were starting to move office so everything was in the process of being boxed up and sorted. In spite of the chaos that ensued around me, I was glad to have arrived; I got lost at every stage of this journey, most notably a 30+minute walk around in circles around the green, fragrant campus (pine, not anything else that a campus sometimes smells like!) at 9am when the temperature was already at least 7500 degrees (probably more like 28). Introduced around the Centre for Coastal Management, settled into a desk, then went for coffee, then lunch, then coffee again before heading back to the hostel.
I wrote that like it was an easy day of chatting and skiving but in reality it was probably the most productive 5 hours of my phd so far- I got insights I could never gain online and spoke with people who are experts on what I want to be an expert on. Everyone had an "oh you should speak to …." idea, and were welcoming but didn't make a big deal of my presence so there wasn't too much pressure.
The rest of the week has gone the same. I've been jetlagged but also super productive, I guess because I have to be- I'm not here for long and a single conversation seems to be more informative than a week trawling websites at home. When my brain hasn't been able to function, I've been able to go to the beach, or explore the town a bit. I only conducted one formal interview, which went well and again provided some key points which no organisation or academic would ever publish on their website.
I'm going out on fieldwork next week to help collect water samples for other projects that are running at the centre, one at the beaches, the other from a boat offshore which should be fun as long as my sea legs haven't run away with my bearings.
So things have gone well, they've been frustrating at times and I seem to be a bit more homesick than I've been in the past, but its set up to be a good few weeks and when the sun is out and there's a 32km beach over the road to go and sulk on, you know it can't be that bad.
---
Comments