Dana Point Paddle and Ponder
9 September 2019
Last week I was taken on a mini paddle board expedition. When we arrived at the beach at around 7pm on Labor Day, a late August public holiday, the area was packed with families who were enjoying the weather and scenery.  The air was full of the smells and sounds of middle eastern culture.  There were barbeques, hookah pipes, boomboxes, happy kids and happy people.  My host remarked on the scene, pointing out that this is normally a very white area, very wealthy, a very different atmosphere. He assumed that some local people would be annoyed that their quiet coastal space was being used by those who had travelled from inland to enjoy it. The inland empire is the term that is coined; an invasion by those not who choose not to, or who were not privileged enough to, live by the coast.
It didn't matter to us who was on the beach or grassy banks though, as we were heading for the water. The launch point was just the beach, we plonked the boards in the blue green sea which is always colder that you expect it to be. The board shorts and bikinis that are abound in southern Californian surfing imagery are a bit off the mark, and while its not cold like the UK, its wetsuit temperature for most of the year. On the paddle boards we wouldn't need to worry as they were very stable, and we would be in calm water so shouldn't fall off.
Paddling out from the beach there was a jetty to the left, a headland to the right, and up ahead was a wall of boulders. It was this wall which put paid to the surf spot Killer Dana, a big wave spot which was, until its demise in 1966, regarded as one of the best big wave spots on the southern California coast. We proceeded left through a large marina, home to around 2400 berths and a number of lazy, social seals. There were other paddle boarders around, people on outrigger canoes, sail boats, small fishing boats. People strolled along the harbour walls; some had an ice cream; some had a dog. The area was bustling as the sun set, turning the sky purple and sea orange. It was a really very pleasant experience, and one I felt lucky to have had the opportunity to be a part of.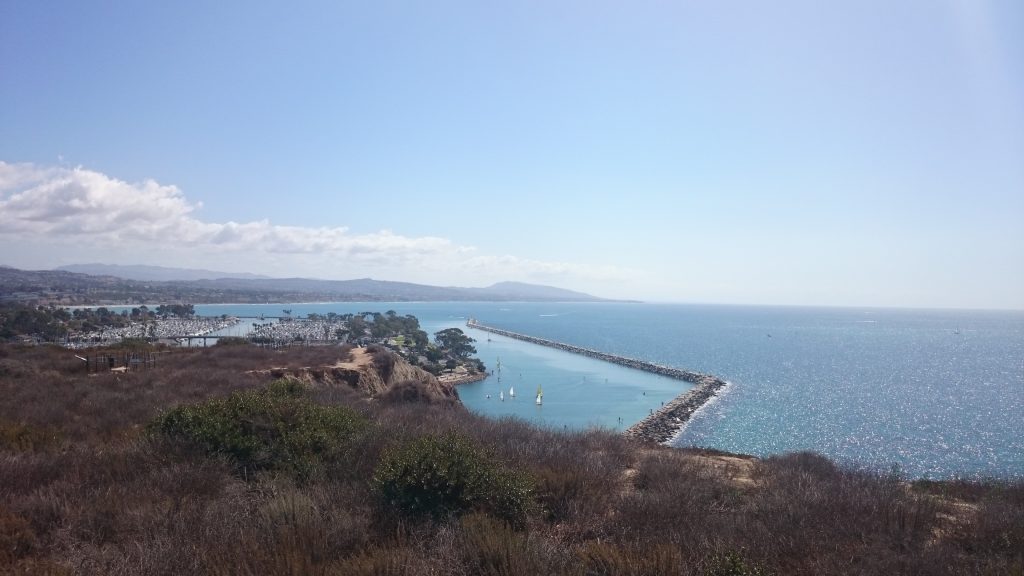 As I mentioned in my last post, I'm currently looking at the aims of those looking to protect surfing spaces. Part of this involves a discussion on who the areas are being protected for. As I pottered along on this enormous paddle board, I imagined those rollers wrapping around the headland. I could see the water butting up against the boulder wall, the rocks now painted white by the hundreds of sea birds that reside there. I wondered how it would have been without the marina, if Killer Dana hadn't been killed. I certainly wouldn't be out there pottering on a paddle board. I doubt I'd be out there at all.
The Army Corp of Engineers closed the area off from any marine activity in August 1966, 53 years prior to my visit. The surf spot lost to legend. There is now a memorial statue just off the main highway near the marina, bronze lettering spelling out Killer Dana, next to bronze statues of local hero men Hobie Alter and Phil Edwards.
I have read a lot about Killer Dana, about how the spot was destroyed in the name of progress, about how it was this and that and a tragedy and so on. There is a lot more to learn. It's among the most famous 'lost waves', lamented by those who once surfed it, and those who wished they'd had the chance to.
This loss came hard for some. This quote from a surfer shows the depth of this loss; the erasure and distrust that it now represented.
"It was like a sudden death that you couldn't talk about. I couldn't even look at it for probably 10 years, just the most painful thing you can imagine. It was a whole world, a whole history erased. I knew I'd never feel at home in Southern California again. If they can do that, they can do anything."

Chris Ahrens in this Surfline article
As an outsider, this pain is difficult to understand. The whole history of that spot spanned around 30 years, and to me, the packed surf spots just up or down the coast, the memorial, the surf shops, the stories, suggest that the world of killer dana was not erased. Surfers have a voice here. The language used in this quote made me wonder also if the surfer knew who the original landowners of Dana Point were. I don't. It's not information that California is good at sharing, for now at least.
If the marina development were to be happening today; would it be stopped? The headquarters of the Surfrider foundation sit about 7 miles away from the harbour and the hard-fought battle to Save Trestles, just 9 miles south of Dana Point Harbour demonstrates how far surfers have come in terms of their activism and organisation.
The example of Killer Dana and my experience of the harbour has forced further questions when thinking about who these spaces are protected for, and why they are protected. This quote from the same Surfline article I think serves as a good discussion point to depart on.
"One year after that, the first 10-ton boulder was laid to the delight of a few thousand clapping onlookers, many of them stuffy yacht dorks in topsiders. Today, it's nothing but tricked-out sailboats, bad Mexican food and an oversize parking lot with only gutless Doheny left for your longboarding pleasure."



Greg Heller Surfline
…I haven't surfed Doheny yet, but it looks really fun.
---
Comments