An experiment in participatory visual methods
27 November 2019
Earlier this month, I was invited to exhibit at Over Seas Apparel in Cardiff's Queen's Arcade. The exhibition was to be part of an event on the 15th of November which brought together artists, musicians and…barbers?! With the opportunity to get a fresh cut or have your profile sketched, I thought this might be the perfect opportunity to do something a little more collaborative with my photography.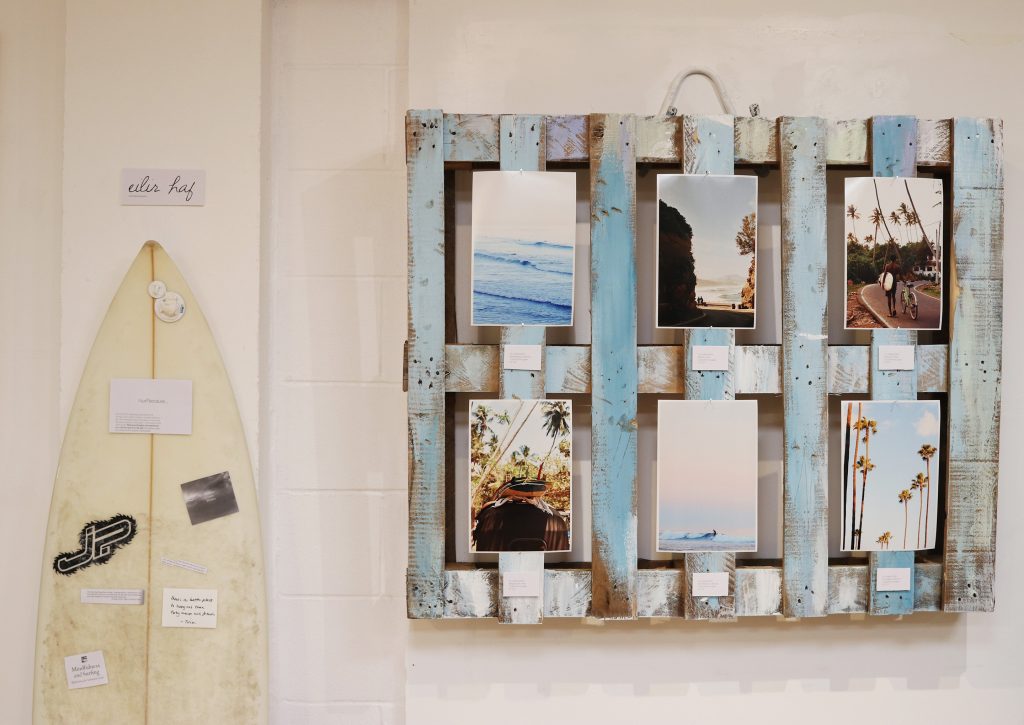 With some interesting surfaces at my disposal, including a palette, surfboard and noticeboard I wanted to play on these different layers by evoking a collage-style effect in my curation of the exhibition. The photos I selected were from all corners of the world including Sri Lanka, Biarritz, California and of course, South Wales. With a variety of guests attending the event in Cardiff, I thought it would be interesting to get a sense of where and why people surf.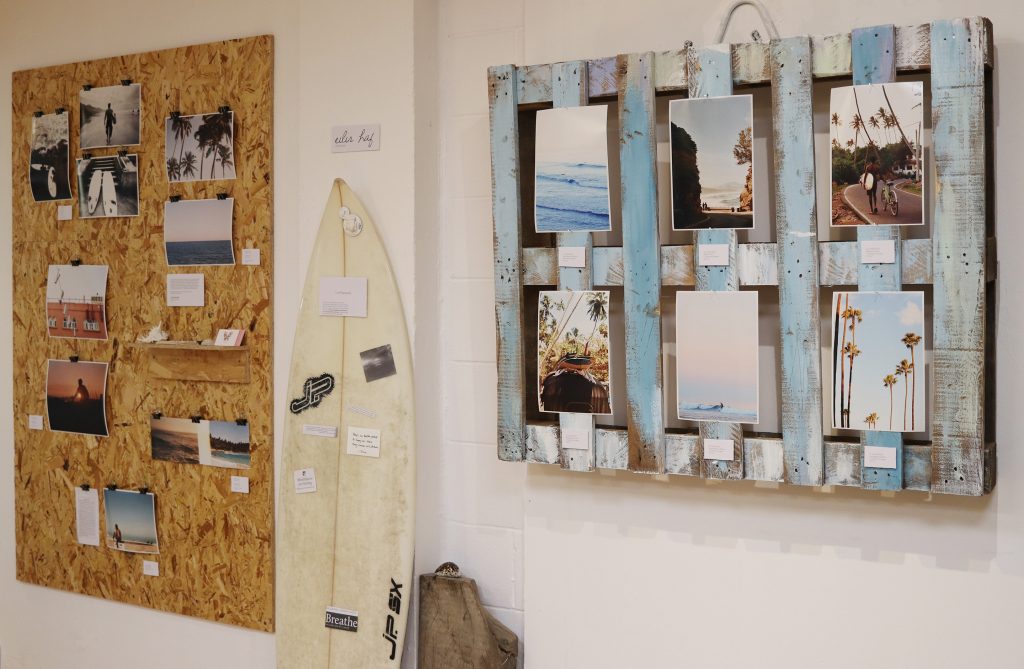 I wanted to allude to my interest in the link between mindfulness and surfing and offer some visual prompts which might encourage onlookers to reflect on their own experiences of surfing. I selected 16 photographs which I felt tied together through visual motifs such as closer crops of the waves themselves and also of often silhouetted figures with their back to the camera. I loosely wanted to create the effect that you as the viewer were observing 'surf scenes' you might encounter from the perspective of a surf participant. Alongside these photographs I included other visual cues such as a snippet from Sam Bleakley's book where he summarises how he finds surfing to be a meditation.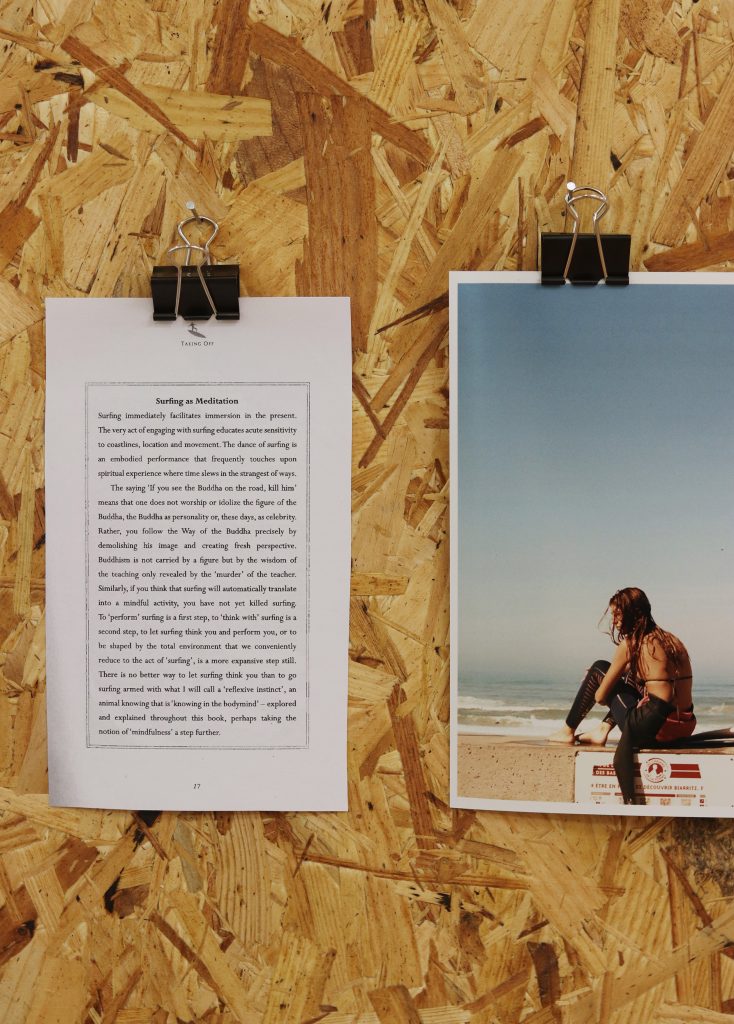 As people arrived I took the opportunity to talk to anyone who looked interested. This was certainly a more effective recruitment method to gain responses (the exhibition remained up for a few more days after the event and I didn't gain any responses in the time it was unattended). I chose to use an old surfboard as my canvas as I enjoyed the additional opportunity for the tacit interaction to prompt thoughts and memories of being in the line up. It was also a fun opportunity to use a surfboard in a different way, to displace it from its usual beach-side context where it would be tied up in all the politics of surf identities. Here, it was able to assume a new role, though I suppose still stood as an icon or monument to 'represent' surf culture.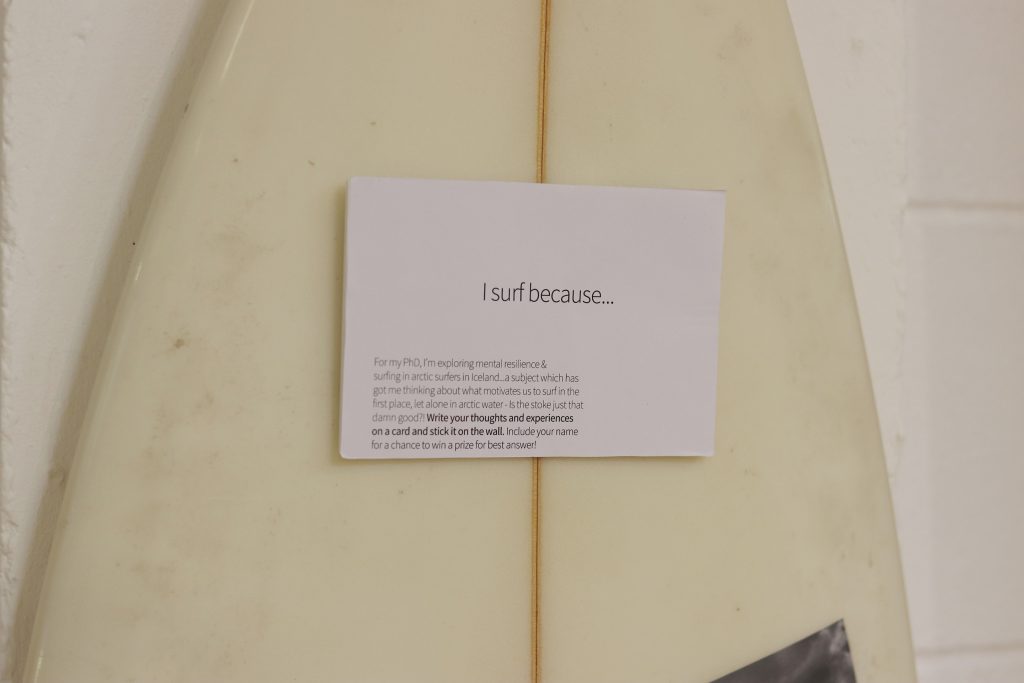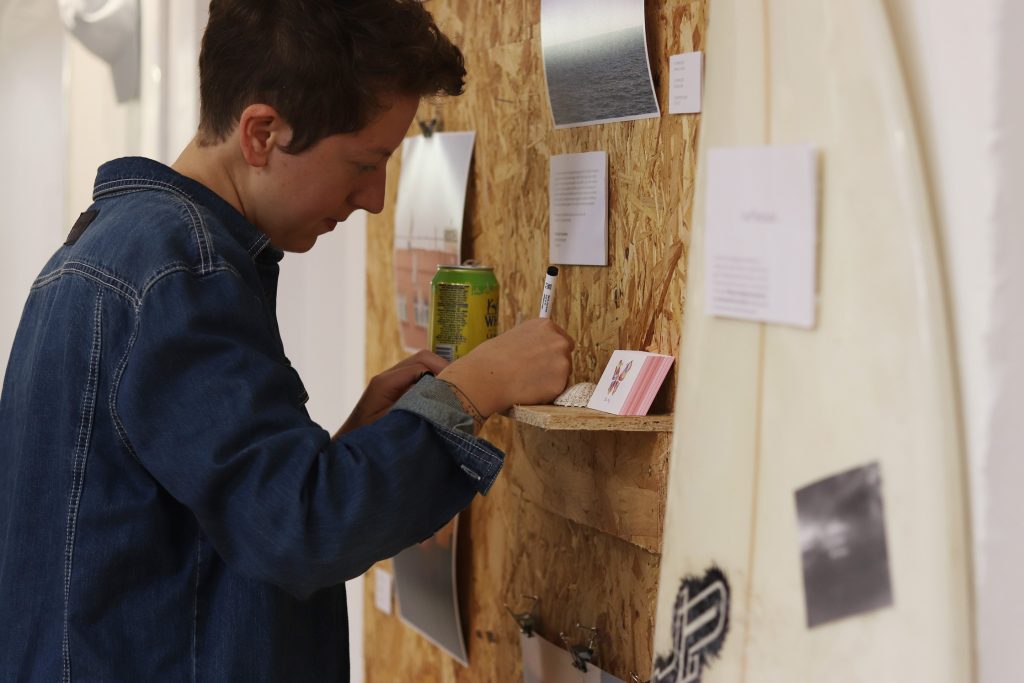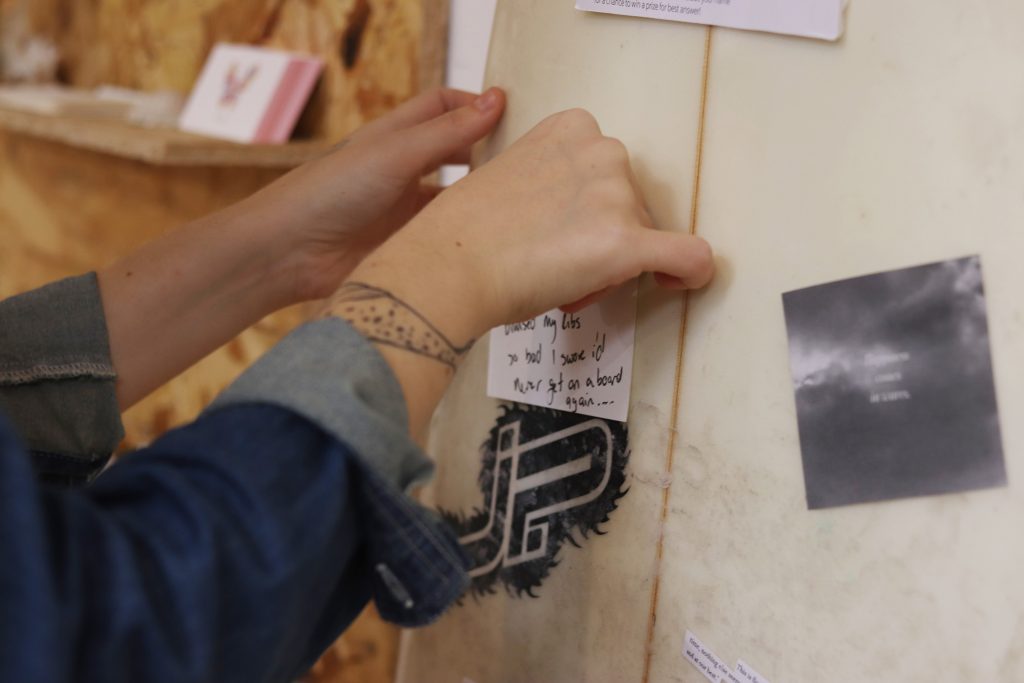 Overall, the limitations of this event were that I didn't have the opportunity to select the attendees (and therefore the respondents). Set in an apparel shop, which was decked out with 'surf-side' gear (hoodies, beanies and so on) as opposed to surf equipment (wetsuits, wax, boards) it perhaps attracted a crowd of those who enjoy the surf identity but don't necessarily surf. This is perhaps a contributing factor in the small number of responses I received, as the research question didn't resonate with my audience.
Another factor of course could be the research design. Next time I might consider making the text much larger, providing more questions respondents could choose from or offering clearer guidance. I could also consider the selection of photographs, perhaps choosing to convey a clear theme or emotion and aim to elicit responses in that way. Overall, it's been an exciting first experiment in participatory visual methods and I hope to continue exploring this dialogical approach.