An early jaunt into the (watery) field.
6 January 2017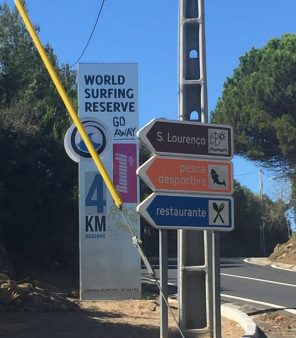 A couple of weeks before I enrolled officially I thought it would be a good idea to go on a surf holiday in order to get back into both surfing and researching surfing after a pretty big break, and to use the opportunity to see a WSR for myself. So that's why I chose to go to Ericeira; Europes only WSR, dedicated in 2011, making it the 2nd in the world and relatively well established.
Located about 40 scary (driving on the wrong side) minutes away from Lisbon, Ericeira is an old fishing village that has, according to locals, over the past 12 years or so been taken over by surf tourism with the industry booming since around 2009.
Narrow cobbled streets, quaint, distinctive blue and white buildings, and a world famous
8km of surf welcoming coastline make it an obvious choice for domestic and international visitors. Being unable to find our accommodation, we were lucky enough to spend 2 hours doing loops of the small town so soon became acquainted with the layout and were able to get a good overview of the place, with all its surf shops, pretty houses and suntanned pedestrians. Fortunately, the road hugged the dramatic coastline and access to the beaches was well signposted with WSR regalia, allowing for scenic rest stops to allow the frustration to fade away.
It was clear from the first loop that this was an ocean town, and over the course of the week this became clearer still, with surf schools, surf shops and an impressive WSR interpretation centre being stand out features of the beaches surrounding area.
The Interpretation centre was a pleasant surprise, and incorporated a 3D map of the area, with interactive video mapping, real ocean sounds and stories playing out over it. Located in the centre of the town above tourist information building, this was an ultra-modern display which educated surfers and non-surfers about the area and its unique geological features and surf culture which has secured it its reputation in the surfing world. This was a high level exhibition, funded by the local municipal government and gave an indication of the support and recognition the WSR status has in the region. When I visited however, it was empty, so the impact that such a feature has on the public is undetermined. I definitely enjoyed it though!
The 7 surf spots that make up the WSR are a mix of reef and beach breaks and from my limited experience, I would say that they are best suited to experienced surfers; when I asked at a surf school if there were any mellow breaks to find, I was told simply "no". Someone later told us that there is a spot in Lisbon which might be ok, but the coastline around Ericeira is certainly geared towards the serious surfer.
The surfers in the water were predominantly male; beginner and intermediate lessons that were going on were much more balanced, but in the line ups proper, I don't think I saw a single female surfer which made me question the accessibility of surfing in the area, and underlying factors affecting higher level participation in the sport. A topic which I hope to write more about in the future.
In summary, Ericeira was lots of fun- my wave count was probably higher in one week that it would be in one year over here, I found out that super bock is the local beer which is nice after a tiring day in the water, and I was able to get a quick insight to what a WSR can be. Overall, a trip well-travelled.

---
Comments