What's it really like to work from home? (compared to university life)
28 April 2020
Geography graduate Harriet gives us an insight into her working from home experience in the Civil Service Fast Stream.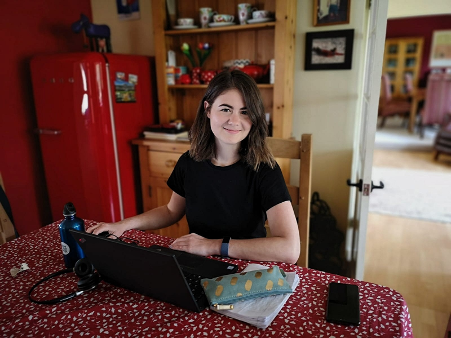 Due to COVID-19, my work as a Fast Stream Policy Advisor on negotiations with the EU has gone from fast-paced and reactive, to long term strategy and preparation. Following the Public Health guidelines, I am currently working from home. This has given me the opportunity to spend more time with my parents and also use some time to watch TV shows!
Motivation for long term work has always been a bit of a weak point, but the current situation has made me think back to how I motivated myself to write my dissertation when I was working at home over the holidays. Thankfully, I've managed to reuse some of the tactics that kept me going then.
As simple as it is, the main thing that works for me is making a to-do list, which I usually fill with quick tasks first so that I can get into a productive rhythm. I've also started setting my own deadlines; I am a classic procrastinator and in university I always used to start something close to the deadline, as I am a big believer that pressure is a great motivator. However, the burn out from doing this constantly taught me that leaving everything to the last minute isn't beneficial for the long-term and splitting things into smaller and attainable deadlines help that.
I'm also rediscovering the importance of giving yourself breaks. When you have seemingly endless amounts of essays stretching before you, it can seem like the end is never in sight. I give myself allotted breaks every day, so I didn't slip into just staring at the screen. The most productive breaks I took at uni we're the ones when I went for a coffee with my friends- knowing that other people also had zero clues of what the essay said. It really made me feel better and the same thing goes now. Losing that social side of work has been a real struggle. So while at first it felt like a waste of time, catching up with my friends and colleagues has been a real lifesaver. I've found that the same lessons I learned in university still apply. I always work better when I can share my problems with people and bounce ideas off them on how to solve them.
Finally, the biggest challenge I'm facing that has parallels to university is coping with housemates who had different schedules. In university, having to resist offers of something far more exciting than work was difficult and trying to keep them out to stop distractions was far easier with a lock on the door. However, I'm finding that bored parents are much more difficult to cope with. It is great that I can spend more time with my family but this can also be a distraction when i'm concentrating on work, which is why I have set up my own work space in a separate room for when I need to focus.
It seems like the constant university cliché to be told that what you are doing now will help you in the future, but working from home has definitely shown me that what worked as a motivator for me at university still holds well for me now.
Harriet Smeeton, BSc Geography (2018)
Your feedback and help please
Have you found this blog post useful?  Please help us by commenting in the bar below, and note any questions there too.
To help us aid more of your fellow students please re-tweet or share this post by using the share buttons.
Your Student Life, Supported.
The Student Support Centre has a range of services dedicated to helping students make the most of their time at University, including: Advice & Money, Careers & Employability, Counselling, Health & Wellbeing, Disability & Dyslexia and International Student Support.
Student Support Centres are located at 50 Park Place, Cathays Campus and Cardigan House, Heath Park Campus.
Further details of services, events, opening times and contacts search 'support and services' on the University Intranet.
What are you looking for?