What's a showcase and why should I attend?
5 October 2020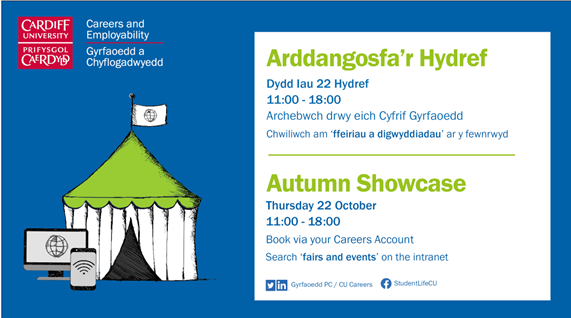 Let's be honest, it's going to feel very different to a traditional careers fair and there will be a distinct lack of freebies on offer; however, if you are starting to think about what you want to do when you graduate, keen to find a placement or summer internship, or simply interested to find out how you can be successful in a competitive graduate labour in the middle of a global pandemic, attending this Autumn's online showcase events is an absolute must!
What is it?
Basically, a Careers Fair, but online. We are running three online showcase events this term, an Autumn Showcase, STEM Showcase and the LAW showcase. You can meet some of the UK's top employers and leading Welsh recruiters who want to target talented Cardiff University students and graduates.
Despite being online, these events will still be interactive, employers will be running live events throughout the day so you will be able to meet the recruiters (albeit virtually) and ask plenty of questions about their roles, organisation and culture and get tips and hints on how to apply to their company..
Is it aimed at me?
Yes! There's something for everyone – Whether you are a first year looking for career inspiration, a second year looking for a placement or summer internship, or you are a finalist or post-grad looking for a graduate job.
Pros
All the content of a careers fair from the comfort of your own home
No anxiety at meeting employers face-to-face, but all the advantages of getting loads of information to help you
You only need to dress smartly on your top half!
The opportunity to ask questions and listen to others' questions too
Cons
How do I sign up?
To help you make the make the most out of these brand-new online career events, just follow these few simple steps:
Book onto a showcase event via your careers account or click on the above showcase links.
Get familiar with the platform. Visit the employer stands before the live event so that you can find out more about the wide range of opportunities available and decide which organisations you want to meet on the day.
Plan your day. Employers will be running live sessions on the day of the showcase – Take the time to look through the live events schedule in each event description and make a note of sessions you want to attend.
Research the employers. Once you've decided what employers you are targeting, it's important you do your research so that you can plan your questions and make a good impression on the day. Use the weblinks provided and think about whether your academic background and existing experience would make you a suitable candidate for the position. 
Register and attend live sessions on the day. On the day of the showcase, join live events by simply clicking join session. You may need to register to attend some sessions in advance so check the employer information carefully.
Top 10 Tips for having a great Showcase experience:
This is your chance to meet recruiters and recent graduates to get more information and advice so attend as many as you can!
Ask employers questions to demonstrate your interest and the fact you have taken the time to read up about what they do – You will stand out and get noticed 🙂
Employers are always happy to have questions asked in the chat box but will be even more impressed if you switch on your video and take a more personal approach.
If you're planning on using your video, think about your virtual background – do you really want to be lying on a beach in Miami?
Be professional, use professional language and dress to impress if you plan to have your video on (You don't need to wear a suit but present yourself as you would do at a physical event).
If you don't know what you want to do, be open to opportunities, these events are designed to inspire you! You may recognise some of the bigger employers, but this is a great chance to find out about companies that you are less familiar with and discover careers that you didn't realise were open to you.
Make sure you've got good Wi-Fi and your headphones/mic are working.
Take notes so that you remember key information and dates; this is one of the advantaged of being at a virtual careers fair.
This is a great opportunity to network and build your connections on LinkedIn.
Have plenty of snacks and drinks on hand – you won't be walking around so you might find your energy levels dip and it becomes hard to keep focused on an online webinar. If you are not on video, I recommend standing up!
For more opportunities to meet employers during our Explore Employability weeks, search 'fairs and events' on the intranet.
Good Luck!
Llinos Carpenter, Employer Engagement Manager
What are you looking for?