Tips on coping with anxiety before and during exams
30 April 2019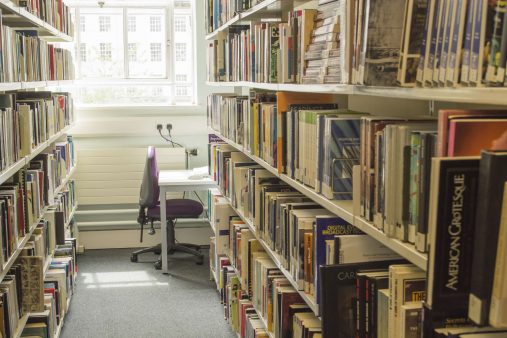 Rachel, Wellbeing Practitioner, shares tips on coping with anxiety before and during exams.
It is natural to feel anxious prior to an exam. In fact, a little anxiety can actually help performance. Anxiety and stress cause the body to release adrenaline which can be helpful when responding to challenging situations. Whilst being laid back has its advantages, being so laid back that you are horizontal can mean you may lack the motivation needed to do well!
Equally, too much adrenalin can lead you to feel distressed and hinder performance. You need to be able to strike a balance between too little and too much anxiety. The purpose of this blog is to help you manage your anxiety and achieve an optimal level to promote alertness and performance.
Here's some advice on what you can do to help yourself with…
Anxiety during the run up to exams
Set out plenty of revision time well in advance of your exams – around six weeks is usually enough, but leave yourself more time if you feel like you might need it. It's better to be safe than sorry!
Make sure you're revising effectively. Focus on essential materials and be active rather than sitting and reading for hours at a time.
Ask your tutor or lecturer for help if you get stuck during your revision.
Try not to focus your whole life on revision.
Make sure to take regular breaks, have days off and get enough sleep.
Eat well – your brain needs energy and fuel to make the most of your revision time.
Talk to your friends and family about your worries rather than bottling things up!
Exercise and relaxation techniques (such as meditation or yoga) are fantastic ways to take your mind off your work if worry is starting to have an effect on you.
Panic the night before
Learn a relaxation technique in advance so that you can utilise it if you need to.
Try to avoid working too close to the exam – don't stay up late the night before or get up early on the morning of. A good night's sleep is more valuable than an extra few hours of revision.
Watch a funny movie or read a funny book – humour is a great way to take your mind off of your worries.
Make sure you're thoroughly prepared for the exam to minimise your worries. Check that you've got the right time and location, pack your pencil case with everything you might need and lay out your clothes for the next day.
Remember to eat – your brain will need the fuel in the exam! Dry bread, crackers and cereal all help settle a churning stomach.
Panic during the exam
Close your eyes and take a few deep breaths. Repeat this whenever you begin to feel anxious.
Read through the instructions and questions slowly and carefully, highlighting key points.
Plan your answers. This is important as it helps your writing flow and means you don't end up panicking and going off on tangents.
Answer the easiest question first if you feel like this will relax you.
If you start to feel unwell, have a drink and close your eyes for a few seconds. Shake your arms and move your head from side to side to release the tension.
If you need to, let an invigilator know how you're feeling and ask to step outside for a minute. Fresh air may be just what you need to calm down.
Watch our series of videos to learn some relaxation techniques.
Mindfulness Drop-in sessions
Mindfulness can be a way to live life more in the present, thinking less about the past and worrying less about the future, and can help relieve exam stress. Find out more about our drop-in sessions
Contact Counselling Health and Wellbeing
If you are finding things difficult at the moment and would like further support, the Counselling, Health and Wellbeing Team are here for you – there is no problem too big or too small, and we offer a range of flexible support options including:
Wellbeing Drop-in, Monday- Friday, 15:00-15:45, and Wednesday, 09:30-10:15
Face to Face, Online or Telephone
Bookable appointments are available via our online referral questionnaire.
If you are worried that you are experiencing physical symptoms that may be affecting your health, we strongly advise you to make a GP appointment to discuss this. If you do not already have a GP, please contact NHS Wales on 0845 46 47 or check out their website to view all of your GP options.
Related links:
Organisation, revision and exam strategies
Academic study skills classes
Wellbeing drop-in sessions
Self-help resources
Best wishes,
Rachel, Wellbeing Practitioner, Counselling, Health and Wellbeing Team
Your feedback and help please
Have you found this blog post useful? Please help us by commenting in the bar below, and note any questions there too.
To help us aid more of your fellow students please re-tweet or share this post by using the share buttons.
Your Student Life, Supported.
The Student Support Centre has a range of services dedicated to helping students make the most of their time at University, including: Advice & Money, Careers & Employability, Counselling, Health & Wellbeing, Disability & Dyslexia and International Student Support.
Student Support Centres are located at 50 Park Place, Cathays Campus and Cardigan House, Heath Park Campus.
Further details of services, events, opening times and contacts search 'support and services' on the University Intranet.
What are you looking for?