The summer I met Boris
24 October 2019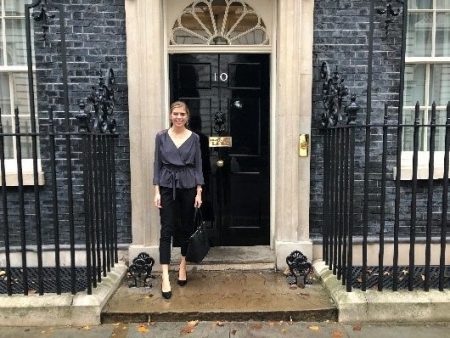 Challenging my mind set
I, like many others, thought that the Civil Service Fast Stream wasn't meant for people like me. I wasn't male, I didn't go to Oxbridge and I hadn't studied PPE. The Bridge Report, published in 2016, found that the Fast Stream intake was still less socially diverse than Oxford and mentally, I had ruled myself out before I'd even started.
Cardiff, along with being great on a rugby match day, was the first step in challenging some of these assumptions – albeit slowly.
One particularly gloomy day in my third year (classic Wales in October), I got an email from my schools career service advertising some internships – which I gave a non-committal flick through when I probably should have been prepping for a seminar. Proactive procrastination, right?
The Summer Diversity Internship Programme (SDIP) was one of them, a new Civil Service initiative to increase social mobility, BAME, and disability representation within government. I applied. A shot to nothing I thought.
Too many months later, more online tests than I care to remember, a telephone interview which I almost missed and probably a good cry (it was third year after all), I found out I'd been successful hunched over my Dissertation in ASSL – it was always the glam life.
The FCO, the EU and the acronyms
I found out that I was going to be in the Foreign and Commonwealth for eight weeks starting on the 24 June. For the eager among you, yes, that is the day the UK voted to leave the EU. I never do things by halves. I met Boris Johnson on my first day!
Since then
A lot has changed since then. I'm now a fully-fledged member of the 2018 Fast Stream– along with a lot of the cohort that I completed SDIP with the year before – and I've worked in the Department for International Development and HM Revenue and Customs in the last two years.
I've attended international conferences, learnt skills I never thought I'd be capable of and, of course, I've stood in front of the door.
All because I fired a shot to nothing, having signed up to a university email list…
Both Cardiff, and Fast Stream Early Talent made the career I currently have a possibility. I had a number of gloriously supportive lecturers, a careers service that hunted for internships to make graduate life easier, and an employer looking for ways to be more inclusive – and more importantly, still is.
Social mobility isn't something that I feel gets talked about enough, and people are often uncomfortable talking about 'class'. As Bernadette Kelly, Social Mobility Champion said earlier this year, 'the Civil Service, and especially the Senior Civil Service, is still seen as elite and 'not for us' by many people from lower socio-economic backgrounds'.
Fast Stream however, are challenging this inner monologue, and I'm proud to work for an organisation that wants to change this, with SDIP being a huge step in the right direction.
What do I wish someone had told me?
Looking back, the top three things I wish someone had said to me are:
All the information you need is right in front of you, go and look for it.
Cardiff is what you make it – your lecturers and all the services provided by Cardiff are there to support you, capitalise on them as much as you possibly can.
Go to as many events as possible from as early as possible that might help you work out what you want to do and how to get there.
To that end, if you think any of the programmes run by Fast Stream and Early Talent might be for you (EDIP, SDIP or Fast Stream), please come and say hello to our outreach team! We will be dotted around campus on the following days:
Monday 28 October – 'I am Cardiff' diversity panel event
Wednesday 6 November – Science Fair
Keep going, keep motivated, and probably most importantly, remember that Hoffi Coffi can solve practically everything.
Best wishes,
Your feedback and help please
Have you found this blog post useful? Please help us by commenting in the bar below, and note any questions there too.
To help us aid more of your fellow students please re-tweet or share this post by using the share buttons.
Your Student Life, Supported.
The Student Support Centre has a range of services dedicated to helping students make the most of their time at University, including: Advice & Money, Careers & Employability, Counselling, Health & Wellbeing, Disability & Dyslexia and International Student Support.
Student Support Centres are located at 50 Park Place, Cathays Campus and Cardigan House, Heath Park Campus.
Further details of services, events, opening times and contacts search 'support and services' on the University Intranet.
What are you looking for?