"The Classroom Experience Project has given me a sure idea that I love working with kids and want to continue doing so."
6 December 2019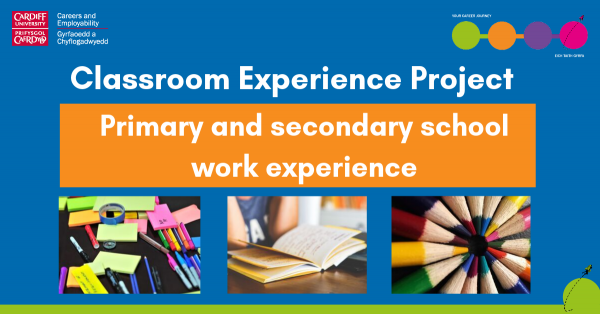 Zoe, a History student and aspiring teacher, took part in work experience at Adamsdown Primary School in Cardiff where she supported teachers and children in class.
I wanted to gain more experience working with children whilst at university, so I applied to the Classroom Experience Project. I found out about the project through my Careers Advisor. The project appealed to me because it would fit around my university schedule and I could choose when I was free to volunteer, so I did one day a week – I loved it so much I went back after the university year had finished and completed a two week placement with them in late June.
My placement involved me splitting my time between two classes both in the same year group, which I loved because I got to know two very different classes – one at the top level, and one in the middle. Adamsdown is a multi-cultural school with many pupils with English as a second language, so not only did I gain an insight into primary school but also at those children with that added barrier to their learning.
I was able to observe teachers as they worked, and basically acted as a Teaching Assistant so whatever the teachers needed, I was there. I also formed a close relationship with the pupils through supporting them one-to-one but also in small groups. You are really allowed to get involved in the children's learning and I really felt part of the school community itself.
Once again because Adamsdown is a multi-cultural school with many pupils with English as a second language, not only have I gained skills with children in a classroom, but I have also gained skills working with children with an added barrier. But also, just the relationships you form with the children, you get to know them and understand what they like or dislike, whether they struggle with certain things or not. Getting to know two classes in such an in-depth manner is really what I've loved about it. I was gutted to be leaving.
I've learnt the right ways to approach sensitive topics, how to deal with issues in the classes, how to support those who really struggle in certain areas but also what is expected from you as an adult figure in the classroom and just basically what it is like to work within a school.
Pretty much everything I took part in whilst at the school was rewarding for me but when you help a child who is really struggling with something and then you finally see them understand it after a bit of one-to-one support, that is really rewarding. It has given me a sure idea that I love working with kids and I want to continue doing so.
Would you recommend the Classroom Experience Project to other students?
100%. Even if you are not sure whether you want to work with kids in the future it is a sure way to find out whether it's something for you before committing to it as a career. Or, even if you just want to gain some more experience to enhance your CV it is a fun way to do so. I really valued my time at the placement. I would definitely tell someone who is thinking about it to just go for it.
Zoe Cannon, BA History
Make 2020 count for you!
Work experience is an important part of your career journey, giving you an insight into your chosen industry and providing you with the skills and experience to help you stand out to potential employers.

Find out more about how we can help you on the intranet and prepare for your work experience with the Work Experience Toolkit.
Your feedback and help please
Have you found this blog post useful? Please help us by commenting in the bar below, and note any questions there too.
To help us aid more of your fellow students please re-tweet or share this post by using the share buttons.
Your Student Life, Supported.
The Student Support Centre has a range of services dedicated to helping students make the most of their time at University, including: Advice & Money, Careers & Employability, Counselling, Health & Wellbeing, Disability & Dyslexia and International Student Support.
Student Support Centres are located at 50 Park Place, Cathays Campus and Cardigan House, Heath Park Campus.
Further details of services, events, opening times and contacts search 'support and services' on the University Intranet.
What are you looking for?