My journey with the Iris Family: a look at Cardiff's own LGBT+ International film festival
31 October 2019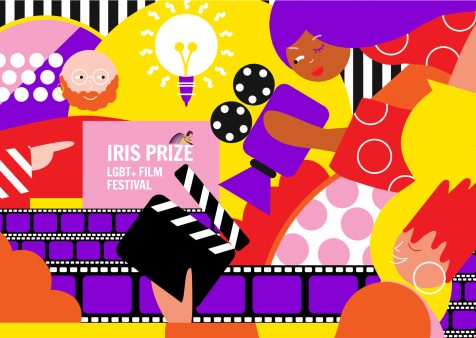 University, alike for so many of us, was always about expanding myself. Often our first gateway to independence, our time here is shaped just as much by people and experiences, as it is by lectures and libraries. For me, one of the most positive ways to explore that sociable and creative side outside of the learning space itself, has been through a unique Insight.
Cardiff University offers plenty of roles within the heart of Cardiff itself. These diverse opportunities are exciting, current and a key way to develop yourself. Gaining experience in your city of study can also really help you to embed yourself in the culture of the city we call home for so much of the year. Having come from an education that was mainly in the arts prior to my University degree in BA History, I can honestly say maintaining an appreciation for a co-work experience has proved just how much collaboration and connection has enriched my academic experience here in Cardiff. Work experience has opened my eyes to how much there is to see and do in the Welsh capital.
My own work experience Insight took place this September. Through a flexible content creator role and in-house writing position with the mesmerizing Iris Prize Festival. For those who don't know Iris, this globally renowned international LGBT+ film festival takes place in Cardiff once a year in October. Bringing a vibrant celebration of international and independent films, filmmakers, actors and designers to the heart of Cardiff for a week of incredible film, fun and frolics. The festival itself offers so much to the community, it's creative, inclusive and promotes diversity in advocating better visibility for the lives and people within the global LGBT+ community.
As part of the Insight I was provided exclusive access to the entire festival, where I took full advantage to immerse myself in the festival experience. I experienced the most exceptional content of film from this year's programme, unmissable and personal Q&As, and interestingly eye-opening industry talks. What I took away from these experiences was a fresh and illuminated new perspective towards film, and the power of representation. Understanding much clearer why it is we can all benefit from a little more listening and sharing.
My opportunities weren't limited here either, the best part of the Insight was I never felt like an intern, I felt like an equal. Iris doesn't do hierarchies in any way shape or form, so my pre-possessed Devil Wears Prada ideas were false. I can honestly say I had more tea and cakes given to me in our office days leading up to the Festival than any afternoon tea in Cardiff.
In terms of my role, my responsibilities were fluid, and there was plenty of room for creativity. I felt supported in my independent research and writing (this often took the form of me at 8pm, cosied up with a few short films pretending I was the film critic of the year, call Cannes I'm on my way).
I also received some much-needed advice and useful constructive criticism where necessary; allowing me to come away with genuine and new learned professional abilities. Including the confidence to use my voice unapologetically and my individual style of narration. I owe a lot of my personal growth to my Iris family and the Insight programme, something you can't and won't always find in the confines of the classroom. Deadlines, self-organization and collaboration look and feel different in a career role than they may in terms of University work and that's revolutionised how I look and respond to tasks.
However, it's the Iris Prize itself that's really revolutionised and refined my outlook on the world around me. We often can't see what's right in front of us; and as students we are a driving force for better, we demand inclusion for all and celebrate diversity yet so few of us participate in the cultures and communities that we become apart of. Iris invites us to step into a place that really is for everyone. If there's anything I want to continue to apply to my life, professional and personal it's to endeavour always to create a place that is quite simply for everyone, regardless of how often society tries to push people out and tell them they're wrong. Everyone has a voice and Iris invites us all through a carnival of celebrations, creativity, film, and discussion works to commemorate many that without it would be silenced and lost.
Tabitha Jukes, final year History.
Your feedback and help please
Have you found this blog post useful? Please help us by commenting in the bar below, and note any questions there too.
To help us aid more of your fellow students please re-tweet or share this post by using the share buttons.
Your Student Life, Supported.
The Student Support Centre has a range of services dedicated to helping students make the most of their time at University, including: Advice & Money, Careers & Employability, Counselling, Health & Wellbeing, Disability & Dyslexia and International Student Support.
Student Support Centres are located at 50 Park Place, Cathays Campus and Cardigan House, Heath Park Campus.
Further details of services, events, opening times and contacts search 'support and services' on the University Intranet.
What are you looking for?