My experience of an On-Campus insight
7 December 2020
Lowri Pitcher tells us about her On-Campus insight with the Residence Life team here at the University.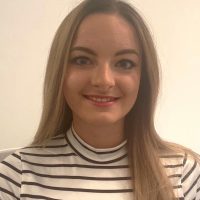 What was your insight?
The internship involved contacting local companies to arrange vouchers/freebies for students who are moving into residences this year. The latter weeks involved doing large-scale translations of website articles from English to Welsh.
What attracted you to the insight?
I was eager to get some administrative work experience, especially having the opportunity to work from home. I have a translation degree so the potential opportunity to do translations in a real-work environment was appealing.
As you completed the role remotely, how have you found working from home? Do you have any tips for completing an insight remotely?
The Residence Life team were incredibly welcoming, we had daily check-ins and weekly team meetings. I felt as if I could ask any questions or contact someone from the team whenever necessary. Staying motivated at home was simple as I am used to working independently. The only negative was with this kind of job, it could have been more effective for me to visit the local companies in order to conduct meetings in-person which could have led to us having more vouchers/deals.
Describe your experience of working within a department in Cardiff University
The team were incredibly welcoming and approachable. I felt like a member of the team despite not actually meeting anybody in person.
The team were very considerate when I had to swap a day or two and they were very keen to promote a healthy work life balance.
What did you gain from your insight?
I gained an insight into the world of remote working, as well as plenty of admin/ PR /customer enquiry experience. I improved my communication skills by contacting and liaising with numerous company representatives and I successfully secured deals with various companies (from freebies, prize bundles to vouchers).
Would you recommend completing an insight through Careers and Employability?
Yes, from the very beginning, I felt very well supported and knew I could reach out if needed. I was contacted via email and phone and given all the information that I deemed necessary.
Your feedback and help please
Have you found this blog post useful? Please help us by commenting in the bar below, and note any questions there too.
To help us aid more of your fellow students please re-tweet or share this post by using the share buttons.
Your Student Life, Supported.
The Student Support Centre has a range of services dedicated to helping students make the most of their time at University, including: Advice & Money, Careers & Employability, Counselling, Health & Wellbeing, Disability & Dyslexia and International Student Support.
What are you looking for?