Mental health in men: Four ways to make sure your buddy is okay
2 December 2020
Wellbeing Champion, Baz, shares helpful information on looking after your mental health, and how you can check in on your friends.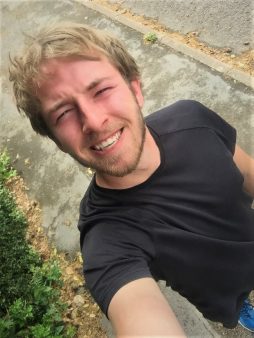 "Mental health in men is becoming increasingly talked about in recent years and it's incredible how many people have come forward to provide support and be there for each other! The fact is around 60 men per hour die from suicide across the globe and, according to the World Health Organisation, suicide represents half of all male violent deaths worldwide. Our everyday lives can prove to be difficult at times and can test our own wellbeing when we don't have someone to turn to. The good news is that there are people who are here to help.
Keeping Safe
Health and Wellbeing virtual events are taking place across the year including suicide safety workshops. These sessions are designed to give you the skills and knowledge needed to support others who may be at risk of suicide. Workshops are approximately two hours long and are run online. Head here for more info about getting involved in the sessions.
Student Support
The Counselling and Wellbeing Teams at Cardiff University are also available to help students who need support with their mental health. They provide self-help resources which give support and coping strategies on how to manage anxiety, low mood, stress and many other difficulties. There are also pre-recorded workshops available at any time on a variety of topics. Wellbeing Champions are also available to offer peer support through creating content such as blogs, videos and having a presence on University social media.
On top of this, Student Support are also intending to virtually reinstate the daily wellbeing drop-in service for all students who need support, mental health advice or information on how to pursue further counselling and wellbeing support. You can get in touch and register for online counselling or wellbeing appointments today. When buildings reopen, you can find Student Support at 50 Park Place in Cathays or Cardigan House in Heath Park.
Movember Charity
Communities from all around the world have come together to give their own helping hand towards mental health support just like the incredible work done at Movember. From growing moustaches to climbing mountains, the charity has continued to support men's mental health for 17 years and shares fun and exciting ways of raising money towards mental health awareness. For more information about the great things people get up to or if you're interested in getting involved yourself, check out Movember!
Four ways to look out for your friends
1. Ask
Have you noticed anything different recently? Maybe they haven't been acting their usual selves? Take a second to ask how they are and if there is anything on their mind. Follow your gut instinct as sometimes we say "I'm fine" when we're not. Don't be afraid to ask twice to make sure.
2. Listen
Give your friend your full attention and show that you're listening. You don't need to give advice or feel that you have to offer solutions, just lending your ear will mean a lot to them. Keep them reminded that you're listening by asking follow-up questions and giving frequent reassurance.
3. Encourage action
Bringing up simple ideas that might improve their mood and wellbeing should also be mentioned. This could be anything from getting more sleep, exercising more or if there was something that helped before for your friend. Encourage them to speak to others about how they feel and if they've felt low for more than two weeks, suggest professional help.
4. Check-in
Leave the conversation by suggesting to catch up again soon. Even if you aren't able to see them in person, make time for a call or drop them a message. This will help you find out if they are getting any better and show that you care. If you're worried that somebody's life is in immediate danger, go directly to emergency services.
Remember the value of your life
In these strange times, there are many reasons why the people we care for could be distressed. It's important for us to understand that we are never really alone and there's always help on the horizon when we need it. Don't hesitate to take action if you think you have a friend who could do with help with their mental health. Encourage others to get in touch and register for online counselling or wellbeing appointments today. Be thankful and kind to each other and remember that brighter days are coming!"
What are you looking for?