Make the most of your summer with an Internship at Green Man Festival!
26 April 2019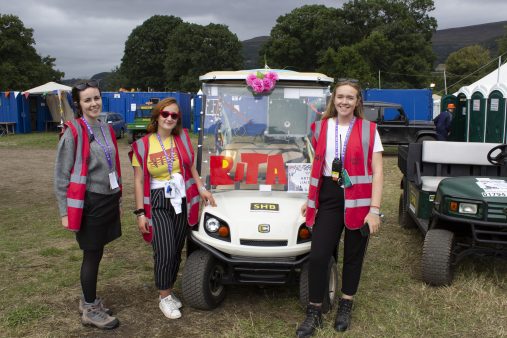 Green Man is the largest open-air music, science and arts festival in Wales. It is known for supporting emerging artists and many successful acts first performed at Green Man. It is one of the few remaining large independent UK festivals and refuses corporate sponsorship and uses that freedom to support a variety of projects including science engagement, support for young people and the vulnerable, small business and the environment.
From left to right- Cardiff University Interns: Jessica Roberts, Erin Brown and Jessica Sayce.
Working in partnership with Cardiff University Careers and Employability, Green Man are offering a number of exciting summer Internships.
These roles are a real opportunity to be part of one of the top festival teams in the UK and gain life and practical skills in the process which will enhance future job applications for a large number of varied roles. You don't need to take our word for it, just take a look at last year's successful Green Man Interns and how they found their experience:
Kelly Tavener, BA Business Management student
Completed the Artist Liaison Internship with Green Man.
"It was an incredible experience. The whole of the Green Man organisation, not just in the Artist Liaison team, are so welcoming and supportive and were willing to help me learn. I also gained a job for next year, as they offered me a permanent role as Stores Manager! This is what you could gain from an insight like mine – not just great contacts and experience but also future career prospects."
Jessica Roberts, BA Journalism and Communications
Completed the Green Man Trust Internship.
"I felt really welcome from the start of my internship, thanks to the close team of seven who were based at the London office, this was a good way of learning about the festival and preparing for my time on-site.
There was a lot of ongoing support from everyone there including my great manager (Jo) who offered me both guidance and independence in my work. The Green Man – Cardiff University relationship meant that I received a lot of feedback and ongoing support throughout this unique opportunity. I feel much more confident having worked at Green Man."
Erin Brown, BA Media, Journalism and Culture
Completed the Operations Internship with Green Man
"This opportunity was amazing. I learnt so much as well as having a really good time, experiencing things that may not have been accessible to me beforehand. Working at Green Man has given me useful skills and knowledge about events management, festivals and the music industry. The festival as a whole is truly one of a kind so I have felt extremely privileged to have played a part in all of it."
Summer is the perfect time to get some essential experience on your CV and prepare you for the real world jobs market after graduation. Green Man are offering the following exciting and rare Internship opportunities.
For your chance to be involved follow the links and complete the application form:
Operations Support Internship
Deadline: Sunday 12 May
Festival Marketing and Press Internship
Deadline: Sunday 12 May
Artist Liaison Internship
Deadline: Sunday 12 May
Green Man Trust Internship
Deadline: Sunday 12 May
Festival Logistics Internship
Deadline: Sunday 19 May
So what are you waiting for? Apply now. Gain experience. Be competitive.
Your feedback and help please
Have you found this blog post useful? Please help us by commenting in the comments bar below, and if there is anything further you'd like to know ask your questions there too.
We'd also be grateful if you can share this information by re-tweeting or sharing with your fellow students who may find this useful – you can do this by using the share buttons or via twitter and facebook.
Your Student Life, Supported.
The Student Support Centre has a range of services dedicated to helping students make the most of their time at University, including: Advice & Money, Careers & Employability, Counselling, Health & Wellbeing, Disability & Dyslexia and International Student Support.
The Student Support Centres are located at 50 Park Place, Cathays Campus and Cardigan House, Heath Park Campus.
For further details of services, events, opening times and more find us on the University Intranet.
What are you looking for?