Job hunting as an International Student
13 November 2019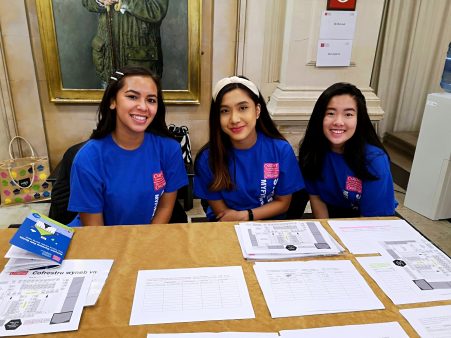 It's tough being an international student. Moving to Cardiff from Jakarta, my hometown, was no doubt the scariest thing I've ever done, as I had to adjust to an unfamiliar place where I knew absolutely no one and had no idea about the culture. Navigating university life as an international student is difficult enough, but with any university student, there is the added stress of thinking about what to do after graduation. Many international students want to stay and work in the UK after they graduate, but the job-hunting process for international students is a lot more complicated.
Most international students are granted a Tier 4 visa to be able to study in the UK. In order to work in the UK, students would need to switch onto a Tier 2 visa, which is a general work visa, and to obtain this visa, students would need to acquire a skilled job with an employer who is licensed to sponsor visas. There are also other requirements you need to fulfill to obtain this visa, such as minimum salary. Not all companies are licensed to give sponsorship for work visas, so international students would have to get the right job at the right place and time. I am going through the graduate job hunt at the moment, too, and I have not currently succeeded in finding a job—but I have learnt a few things in the process. 
Work Experience will help you stand out from the crowd. 
The most important thing to realise is that you are competing in the job market as an international student, which means it is absolutely essential that you make yourself stand out. In order to do this, you must have work experience written on your CV. You are competing with thousands of other graduates with work experience written on their CV, so you have to stand out and be the best of the bunch. Put yourself in the shoes of the employer—they would not want to hire a home student without any work experience, let alone an international student. If you do get work experience, you can try your best to tailor that experience to what you want to do in the future, but even if it is not in the same path, make sure you get transferable skills that you are able to use in the future (e.g. communication skills, problem solving, organisation skills, etc). Employers will still see this as a sign that you are a proactive student. Get the best grades that you can, but good grades alone will not get you a graduate job. I cannot stress this enough—get as much work experience as you can and make yourself stand out!
Do your research! 
You also have to do your research and plan. This is important in job hunting anyway, but even more so if you are an international student. Again, not every organisation can sponsor work visas, and sometimes, just because they can does not mean they will. Find out about companies that can sponsor visas and aim towards applying to those companies that can support you—don't waste your time creating an amazing job application just to get rejected by a company who is unable to sponsor you. Have a look at the UK Government's Tier 2 Licensed Sponsor list, and make sure the company you are applying to is eligible to help you get a work visa. Know your options—do your research and browse for all the opportunities that interest you, and this will take time. Make a document listing all the application deadlines so you can keep track of them and make sure you complete each one. And do your research EARLY! Do not leave it until the last semester of your final year to start applying for jobs, because you simply will not have enough time. I regret leaving it until third year to realise that I needed work experience. You are in a tougher spot, so make sure you get a head start. 
Use the Careers and Employability Service
There are resources for you at university centered around employability, so make sure you use these resources to the best of your ability. Get your CVs and cover letters checked by a careers and employability adviser before you submit them to make sure you have the best chance of succeeding. Attend as many Careers Fairs and Employers Events as possible to network with employers and ask them any questions you may have about their employment opportunities—there will be multiple fairs and events throughout the year, so keep an eye out for them. Careers fairs will also allow you to meet graduates who have been in your position, and you can ask them for tips to create the best application possible. Maximise the use of these free resources available for you, because you will need all the help you can get. 
Be realistic, but more importantly, be resilient! 
Lastly, it's important to be realistic. Not every company will want to hire international students. You can succeed, but it is an extremely tough process. There is a chance of failure too, so you still have to be flexible with your prospects. To me, the hardest part about job hunting as an international student is not all the applications and cover letters you have to write—it's the impact of the process to my mental health. It does feel demoralising and discouraging at times—it feels like you're fighting a losing game, because you are already disadvantaged by your visa status and there is less choice available. Graduate job hunting is stressful nonetheless, and even more so when you're an international student. So, work hard, but also take care of yourself. Have a break if you need it. Remember: whatever result you get, you are still a worthy person. Even if you fail, you will learn from that experience—that interview you failed will prepare you to do better for the next one. I don't have a success story to tell you right now, either, but hopefully I will in the future. 
Best Wishes
Karisa Amanda Hermawan,  
MA International Public Relations and Global Communications Management 
What are you looking for?