Follow in the footsteps of key workers: Discover a career in Teaching
23 February 2021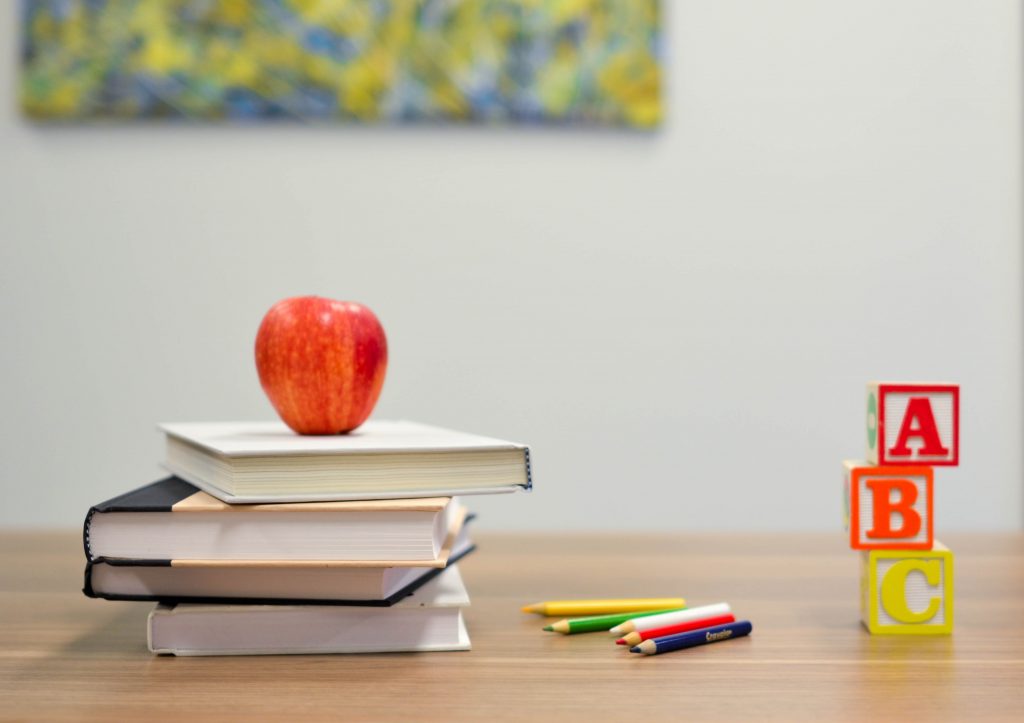 There has been a rise in teacher training applications since the coronavirus pandemic, as reported by the National Foundation for Educational Research (NFER). It's clear that interest has grown in this rewarding 'key worker' profession.
Why has teaching become more popular?
The pandemic has increased the appeal of careers with a greater social purpose.
There are worries about the current jobs market – people may be looking at teaching as a more secure career route during these unstable economic times.
Have you thought about getting into teaching? We may be able to help you decide if this profession is for you.
As well as it being a stable career option, let's look at some other reasons to consider teaching:
To make a difference in young people's lives
A varied workload – no day is the same
For the love of your subject and to inspire others
To work with young people
It's a challenge but rewarding
We asked some teachers about what they love most about their jobs:
"You know you are helping to shape a young person's life and that is a huge responsibility but a privilege too."

Sian McAuliffe, a Primary School Teacher
---
"I think there is nothing that beats that feeling when a student begins to understand or achieve something they never thought they could or would be able to. Seeing students grow and develop in confidence and knowing you played a part, however small, in that is probably one of the most rewarding parts of the job."

Ceri Gartland, Deputy Headteacher, Whitchurch High School and Cardiff University Alumna
---
"For me, it's about sharing my passion and enthusiasm for my subject and I love the interaction and contact I have with the students every day. Also, you are never clock watching in a school!"

Hannah Brown, MFL Secondary Teacher and Cardiff University French and Education Alumna
---
Does that inspire you? Are you keen to discover more about what a career in teaching can offer? The below online resource AND event coming up soon may be perfect for you:
---
Join the Discover Teaching Pathway
This online Pathway is for anyone interested in a career in teaching and education.
• Explore this career route
• Develop your skills and prepare for applying to this rewarding and exciting profession.
• Complete interactive online sessions and create a mini video lesson.
Watch this short video about the Pathway:
View the Discover Teaching Pathway now on your Careers Account.
---
Key Worker Careers: The stability of Teaching during uncertain times' – Panel event with Live Q&A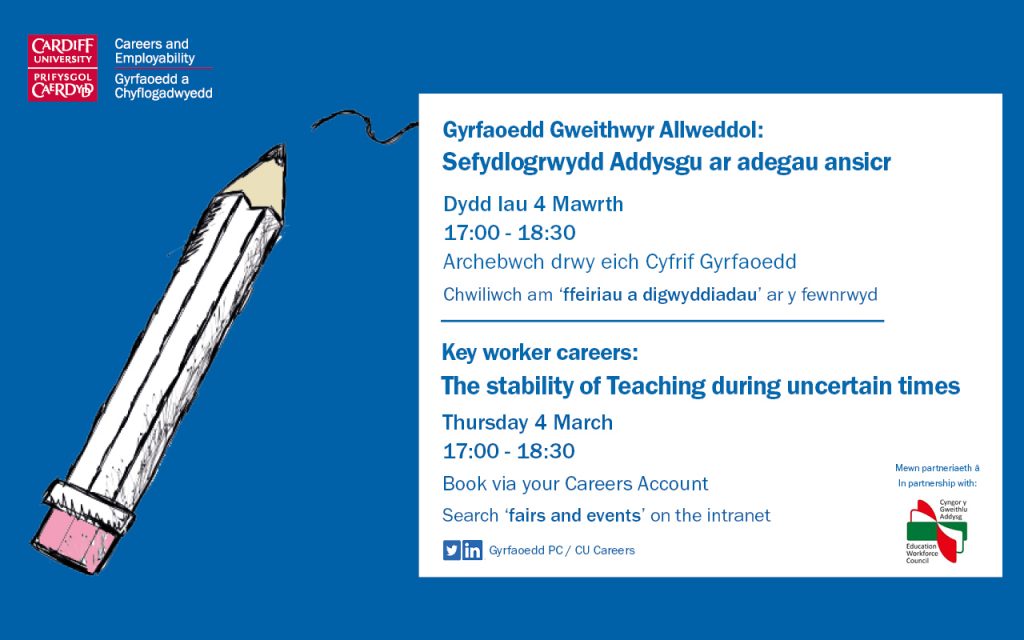 Thursday 4 March, 17:00 – 18:30.
This virtual event offers a fantastic opportunity to find out more about how the teaching sector has adapted and evolved during the Coronavirus pandemic. You will hear directly from teaching professionals and trainees about what a career in teaching has to offer and the rewards and challenges of this increasingly popular and exciting profession.
Your feedback and help please
Have you found this blog post useful? Please help us by commenting in the bar below, and note any questions there too.
To help us aid more of your fellow students please re-tweet or share this post by using the share buttons.
Your Student Life, Supported.
The Student Support Centre has a range of services dedicated to helping students make the most of their time at University, including: Advice & Money, Careers & Employability, Counselling, Health & Wellbeing, Disability & Dyslexia and International Student Support.
What are you looking for?