Developing digital education in the Welsh language
22 September 2020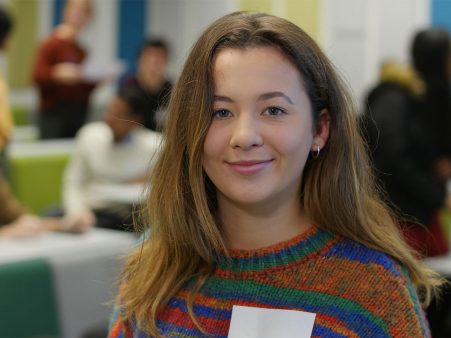 My name is Luned Hunter and I'm about to start my third year studying Politics and Modern History.
During the last academic year I've been part of the Student Champion scheme which meant I was part of a team of students across different schools that worked closely with University staff to ensure that students voices are heard within the University.
When lockdown hit this role became virtual and working on digital education became an important aspect of being a Student Champion. During this period of the scheme I researched a lot about how the University could provide efficient digital education for its students. As a Student Champion I would correspond back and forth with staff on how the University could provide an excellent digital education for its students for the forthcoming academic year. 
An important part of my role as a Student Champion was ensuring that Welsh language students also had a voice in this scheme and when it came to virtual work as a Student Champion my role also involved translating some aspects of digital education. As a first language Welsh speaker I enjoyed playing a part in developing digital education in the Welsh language as it's extremely important that both Welsh language students and non-Welsh language students can navigate their way around digital education easily.
Working with staff on tasks such as creating an efficient introduction module for Learning Central created an opportunity for me and other Student Champions to give our opinion on what students would like to see as part of their digital education. As Student Champions, we worked closely with staff to develop digital education, providing a student perspective and thus hopefully benefitting students across the University.  
Find out more about the induction to online and digital learning at Cardiff University
What are you looking for?