Congratulations to this year's Student Mentors and Mentor Consultants!
3 June 2019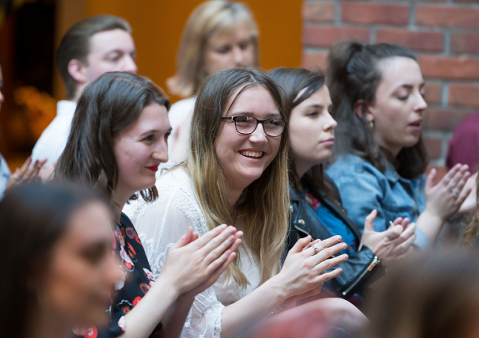 Ann McManus, Mentor Manager recognises the contribution and achievements of this year's Student Mentors and Consultants and thanks them for making it another successful year…
The team and I are extremely proud of our student mentors and consultants who are hardworking, committed and professional. This year's celebration event was another great success, and the winners were…
Overall Student Mentor of the Year
Robert Mundy, School of Engineering
Mentor Consultants of the Year
College of Physical Sciences and Engineering: Tommy Gill
College of Biomedical and Life Sciences: Isabel Marin Gamero
College of Arts, Humanities and Social Sciences: Lucy Ghent
Outstanding Contribution to the Student Mentor Scheme
Vicky Lord, School of English, Communication and Philosophy
Student Mentors of the year and Highly Commended Mentors
Biosciences: Emily Moyes, Oliver Rowley, Ffion Boxall, Danielle Ellis
Business: Chantelle Hunt, Mared Jones, Sioned Murphy
Chemistry: Eftychia Kleniati, Mariana Viegas de Almeida
Computer Sciences: Anastasia Ugaste, Jorge Correa Merlino, Josh Whyte, Iryna Bernyk
Dentistry: Gabriella Webb, Charlotte King, Karina Syarova
Earth and Ocean Sciences: Francis Matthew, Philippa Smith, Jessica Ackers
Engineering: Camille Pope, Jack Page, Hasan Hussaini, Joseph Conroy
English, Communication and Philosophy: Kate Bruce, Bethany Scott, Alice Langer, Scarlett Wells
Geography and Planning: Aoife McCarthy, Antonia Raven, Caitlin Kilgannon,
Hana Undy
History, Archaeology and Religion: Clare Parry, Firial Benamer, Morgan Bahia
Journalism, Media and Culture: Luisa de la Concha Montes, Yeonsu Cho
Law and Politics: Geneva Virasami, Isla Cheung
Mathematics: Thomas Gardner, Hannah Jonathan, Katie Phillips
Pharmacy: Charlotte Hambly, Nazneen Bamji, Kaitlin Boyle
Physics and Astronomy: George Gill, Paradeisa O'Dowd Phanis, Libby Raybould, Holly Davies, Calum Dear
Psychology: Emily Murphy, Jas Johnson, Megan Thomas
Social Sciences: Alice Abrey, Callum McCarthy, Chloe Plummer
Music: Sophie McLaughlin
An opportunity to enhance your personal development
It has been a pleasure working with Vicky (Lord), who won the Outstanding Contribution to the Student Mentor Scheme. She has been with the scheme for the past three years and was Mentor of the Year for English Literature two years ago and has been a mentor consultant for the last two years.
It was great to have Vicky speak, she was an eloquent and experienced public speaker, who described her lack of confidence throughout primary, secondary school and the first year of University. Vicky acknowledged how becoming a mentor had given her a real purpose within the University and the opportunity to engage with a wider pool of students. She spoke about her personal experiences of being a mentor, how it had developed her confidence and self-belief and how she had thrived by helping mentees and mentors in her school.
It was a privilege to welcome back three alumni, past student mentors: Kalika Puri (School of Pharmacy and Pharmaceutical Sciences), Ryan Farr and Jamie Beynon (Cardiff Business School) who spoke inspirationally about how volunteering with the scheme had equipped them with the skills not only to be appointed to their graduate careers, but also to perform well in the workplace.
Ryan spoke of how being a mentor had helped him not just develop but to evidence key skills such as organisation, time management and communication skills. He shared his experiences of working in Deloitte UK and how these skills help him in the workplace, not just to complete tasks but also in developing good working relationships.
Jamie, also with Deloitte UK, talked about his role as a mentor consultant and shared that although he had enjoyed being a mentor, he took on the role of mentor consultant to further diversify his skills. It also enabled him to demonstrate to potential employers that he was ambitious and ready to take on new challenges and tasks. Jamie shared how being a mentor consultant had increased his confidence and how he uses the skills he developed in the work environment.

Kalika was awarded the title Overall Mentor of the Year in 2017. Now a pharmacist at the Royal Gwent Hospital in Newport, she commended the mentors and consultants on all that they had achieved and was keen to encourage them to harness those experiences and skills. Kalika said the one piece of advice she would like the students to take away from the evening would be: "Believe in yourself".
Mentor students are making a positive impact on the student experience
Dr Annabel Cartwright, Director of Undergraduate Studies in the School of Physics and Astronomy opened the evening with warmth and humour, thanking and commending the student mentors and consultants on behalf of academic staff.
Dr Cartwright spoke of how the transition to university can be daunting and she commended the mentors for their dedication, creativity and success in engaging first year students with the scheme and the university. This year, the School of Physics and Astronomy succeeded in having a 100% retention rate of first year students and Dr Cartwright credited the input of student mentors in that achievement and thanked them sincerely for their positive impact on the student experience.
A mentor scheme in every school from 2019
The Mentor scheme started in 2012 with five academic schools. This year, 19 schools participated and from September 2019 I'm excited that the scheme has been extended to all first year students across the university with access to a peer mentor within every school.
"The mentor scheme was amazing as it put a safety blanket on me knowing I had someone to go to with any problems or questions which helped me settle into university. If this scheme was not in place I would have found it hard settling into university."


Anonymous student quote.
Find out more about the Student Mentor Scheme
Thanks again to all our student mentors and I look forward to working with this year's new recruits.
Best wishes,
Ann, Student Mentor Scheme Manager.
Your feedback and help please
Have you found this blog post useful? Please help us by commenting in the bar below, and note any questions there too.
To help us aid more of your fellow students please re-tweet or share this post by using the share buttons.
Your Student Life, Supported.
The Student Support Centre has a range of services dedicated to helping students make the most of their time at University, including: Advice & Money, Careers & Employability, Counselling, Health & Wellbeing, Disability & Dyslexia and International Student Support.
Student Support Centres are located at 50 Park Place, Cathays Campus and Cardigan House, Heath Park Campus.
Further details of services, events, opening times and contacts search 'support and services' on the University Intranet.
What are you looking for?