Clare: "why I chose to become a student mentor"
13 February 2020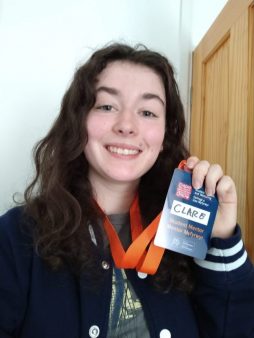 "Hello, I'm Clare, a third year Ancient History student. I've been involved with the mentoring scheme from my very first day at University – from being mentored in first year, to being a mentor in my 2nd year and now a mentor consultant in my final year.
Mentors provide a vital support base for first year students where they may not feel comfortable approaching staff members – as a student in their academic school who has 'been there and done that', a mentor can provide the student-student support we all need but can sometimes struggle to find. How you run your sessions and how frequently is completely up to you as well as what topics you cover. You can manage your own time to fit around your studies and have a checklist to complete as a mentor to get your fantastic award!
You are supported from beginning to end as a mentor, so you are never alone and there is always someone to speak to and ask questions. You are trained for your role, get weekly newsletters as well as access to resources from previous mentors and the Skills Centre on Learning Central. Every mentor has a mentor consultant, like myself, from your academic school who has already been a mentor to help you when you need it and meet with you to check all is well. You also get a Project Officer, a member of staff from the Skills Centre, who are fantastic and so supportive.
As you go through your degree, you are always getting reminders about building your CV and mentoring is an incredible opportunity to do this and it shows off so many wonderful skills. Mentoring is the perfect thing to make your CV shine – I should know, I got a summer internship because of my role as a mentor. As a mentor you get the employability skills you need including leadership, organisation, time-management, communication and problem-solving for example, when things don't go to plan, your meeting-place is busy, people can't make the meeting or you get a particularly tricky question, to name a few).
Not only does being involved in mentoring add that sprinkling of awesome-ness on paper, but it helps you in person as well. Through being a mentor and mentor consultant, I have become more confident, organised and empathetic – I can genuinely say being involved has made me a better and stronger person. Knowing I am helping other people through volunteering my time brings so much joy to the role and makes it all the more special.
I would encourage everyone to apply to become a mentor without hesitation. By being a mentor, you can help people in your academic school who were in the exact same position you were – this gives you the opportunity to ensure those who come after you have all the information you wish you had. Being a mentor is really fun and gives you so much fulfilment it's crazy. It is beneficial for you and for those that you help – a win-win situation, what more can you ask for?"
We are recruiting new volunteer Student Mentors now!
Help new first years in your school, gain employability skills and get a certificate! Search "Student Mentor" on the intranet to access the role description and online application form and apply by Friday 6 March. All student mentors receive full training, supervision and support – we are here to help you in your role. We welcome applications from undergraduate students who will be returning to campus in September 2020.
Your feedback and help please
Have you found this blog post useful? Please help us by commenting in the bar below, and note any questions there too.
To help us aid more of your fellow students please re-tweet or share this post by using the share buttons.
Your Student Life, Supported.
The Student Support Centre has a range of services dedicated to helping students make the most of their time at University, including: Advice & Money, Careers & Employability, Counselling, Health & Wellbeing, Disability & Dyslexia and International Student Support.
Student Support Centres are located at 50 Park Place, Cathays Campus and Cardigan House, Heath Park Campus.
Further details of services, events, opening times and contacts search 'support and services' on the University Intranet.
What are you looking for?