Thinking of Giving up Smoking?
13 March 2018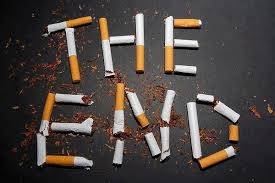 Thinking of Giving up Smoking?
If you are a smoker I'm sure there are times when you have considered giving up. Perhaps many of you have tried more than once but for some reason, you have returned to smoking.
You may at this very moment be thinking of giving it another go, if so with No Smoking Day taking place on Wednesday March 14th, it could be an ideal time to try again.
Giving up can be one of the best things you can do to safeguard and improve your overall health. So if you're thinking of giving it a go or another go, it's worth considering that some of the benefits can be immediate, as well as those that are longer term.
Being as prepared as you can be leading up to the day you choose to give up, is a good idea. Having a day in mind such as National No Smoking Day is another effective way to plan towards giving up and helps with sticking to it. Finding a support group in your area, at work or giving up with friends are other excellent ways to ensure that you remain smoke free. There are also NHS smoking cessation support groups available to tap into.
Other sources of encouragement might be to put away the money you would normally spend on smoking and save for something to look forward to, such as a holiday. Taking up a new hobby or activity such as regular exercise or relaxation or mindfulness classes, can also be a positive step in the right direction.
The Staff Wellbeing Team will be organising smoking cessation training events in the near future so, make sure you keep an eye open for these on our website. We also run regular introductory mindfulness workshops.
Take a look at our information sheet on our Staff Wellbeing website for a complete list of the benefits and support links available to you.
In the meantime, to give you a kick start and set you on your way to becoming a non-smoker, just take a look at a few of the important and desirable benefits you will experience:-
A return of your sense of taste and smell enabling greater enjoyment of your food.
Breathing and general fitness improve.
Appearance of skin and teeth improve.
Confidence in social situations will increase as you will no longer smell of stale tobacco smoke.
Fertility levels improve, along with chances of having a healthy pregnancy and baby.
So why not make this year the one you choose to take your first step to a healthier, fitter, more confident you.
Good luck!