Spotlight on … MA studies – John's experience
17 May 2021
In a series of blogs, find out more about what it's like to study for our MA in Welsh and Celtic Studies.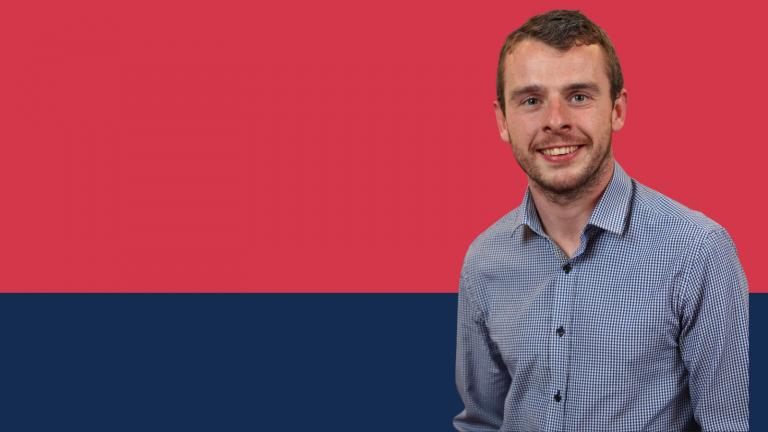 An innovative and flexible programme that enables students to explore the relationship between literature, language, culture and identity through both an international and interdisciplinary lens. Available through the medium of Welsh or English, the programme's graduates go on to a range of diverse careers across sectors, from education and policy, to heritage and translation.
John Prendergast (MA 2017) is Director of the West Kerry Irish Language Planning Office with Tobar Dhuibhne. Here, he reflects on why he chose Cardiff University and the School of Welsh for postgraduate study, and the academic and social experiences that have contributed to his career success.
The structure of the MA in Welsh and Celtic Studies programme offered me the chance to broaden my knowledge across several disciplines in one all-encompassing degree. These included language law, sociolinguistics, history, language revitalisation and much more. I received a scholarship from the Irish Government to undertake the MA and to teach Introduction to Irish course in 2015, which was a great bonus in me choosing to study the MA in Welsh and Celtic Studies.
Not only did the content of the course appeal to me, but the focus and cultivation on guided and specific research stood out to me. Academics in the Department were hugely abreast of the language situation in Ireland, so being able to study Irish language law and sociolinguistics in the School of Welsh, through the medium of Irish was an outstanding opportunity. The link between the School of the Welsh and the Irish Government was a testament to the deep links and fruitful networking of the School too. I was also intrigued to learn some Cymraeg!
An unparalleled year
There was so much I loved about the School of Welsh and the unparalleled year I spent there. The support from the staff was second to none. Everyone was so friendly, so approachable, and so hugely professional. Our Master's cohort cultivated a friendly and energetic atmosphere, extremely conducive to peer-learning and growing as a researcher. Everyone had their own interest and research-focus, which made meeting the group at formal and non-formal School events very fruitful! I really enjoyed the structure of the MA and how we were able to hone different skills as part of our studies. There was such a buzz about being part of postgraduate life at the School of Welsh and I grew a lot as a person and as a researcher as a result.
I thoroughly enjoyed the interdisciplinary nature my research interests, and how they were heavily informed by contemporary research and presentations by those within and without the School of Welsh. My research into linguistic justice served as an illuminating springboard for me to clearly understand how best to further the discourse of Irish language promotion in Ireland. Being able to study Welsh, from a beginner level, and advanced French was a personal highlight too.
Nurturing, and expert, research environment
My thesis was entitled "Should Immigrants be Afforded Language Rights?" and it served to expose gaps in the law and argue that certain groups were deserving of tolerance-oriented language rights. It used the Republic of Ireland and the North of Ireland as case studies (jurisdictions where the Irish language is an official language and where it is not) in order to assess how this might work in practice. The framework of the thesis was under the principle of linguistic justice, in that every language has equal value and should be treated as such. I chose this topic as I wanted to build on earlier research and apply it to a practical contemporary issue that affects the speaking of languages such as Irish. I was assigned Professor Diarmait Mac Giolla Chríost as my thesis supervisor and he supported me through every stage of the research and drafting of this work. He was so understanding and expert in his counsel and I'm delighted to have been able to work under such guidance.
Professional opportunities
As part of the MA, I flew to Dublin to work for a week with Conradh na Gaeilge, an organisation which promotes the Irish Language. It was a brilliant experience that enabled me to learn some practical skills and get an insight into the workings of an organisation I admire greatly. I got to make some professional contacts at the time, which proved useful going forward as I now sit on the Coiste Gnó (Executive Committee) for the organisation. I also got to hone some communication, organisation and administrative skills as well as being able to handle myself in a busy organisation during an even busier week (I arrived in the week of their annual national conference!).
I am now the Director of the West Kerry Irish Language Planning Office with Tobar Dhuibhne. The West Kerry Language Plan is a community-written, State-approved series of actions that aims to increase the amount of Irish language speakers in the West Kerry Gaeltacht (Irish-speaking region). I am responsible for implementing these actions and managing the budget over the 7-year lifespan of the Plan. It's a really varied, challenging role and I am thrilled to be spearheading these efforts.
By honing my presentation skills, my communication skills, my research and writing skills, it is undeniable that the Master's programme continues to support me in my chosen profession.
No regrets
Cardiff was such good craic! Having never been to Cardiff before arriving for the MA, I found it so easy to make friends, explore the city and flourish in my academics. The city is a wonderful size and always has an electric atmosphere. There was always something going on, or something to do in Cardiff.
If you're considering the MA in Welsh and Celtic Studies. Do it. You won't regret it. It's a unique opportunity to further your particular interests in a supportive and structured environment. I look back with the fondest of memories and the height of gratitude that I chose to pursue the MA in Welsh and Celtic Studies at Cardiff University.