Home from home – an American in Cardiff
12 June 2019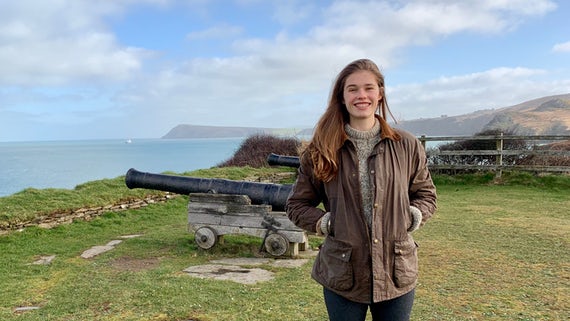 Fulbright Scholar Emma Watkins (MA 2020) joined the School of Welsh after completing her undergraduate degree at Princeton University in the United States. It was a return to familial roots (her father is a Welshman) and the landscape and culture that has inspired her research interests.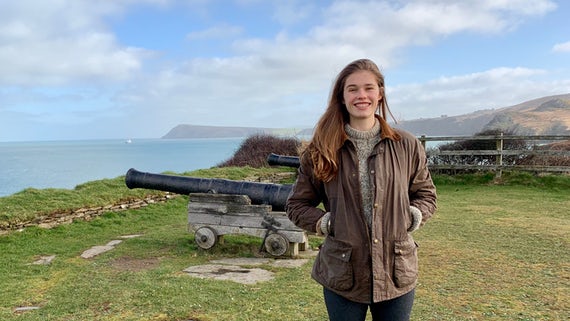 Here she tells us about her experience as an international postgraduate student and the community she discovered in Cardiff.
During the final year of my undergraduate programme, I wrote a play called Trailing Rhiannon, which reimagines the First Branch of the Mabinogi from the perspective of its female protagonist. As I researched and wrote the play, I relied heavily on Professor Sioned Davies' wonderful translation of the Mabinogion, which pays close attention to the acoustic and performative elements of the Welsh text. I learned about Cardiff University's School of Welsh in the foreword of Sioned's translation and ultimately chose to pursue the MA in Welsh and Celtic Studies because of the extraordinary calibre of its faculty and the promise of a tailor-made academic programme.
Studying at the School has enabled me to develop a close relationship with Sioned and her infectious enthusiasm for the Mabinogi and overwhelming generosity has made every one of our sessions together truly enjoyable. I count myself very lucky to have had the opportunity to work with such an inspiring and brilliant female academic.
In truth, I've found the entire faculty very welcoming and supportive. As an American Welsh-language learner entering the programme, I had a number of specific needs and goals for the year. The faculty have gone out of their way to make me feel included and been flexible in accommodating my unique research interests while encouraging me to expand them further, backed up by the resources and support to do so.
I have also been fortunate to undertake a work placement which has complemented my learning. I worked with an artistic producing company called Adverse Camber, which promotes storytellers across the UK, creating a platform for the development of exciting new performance pieces. I served as a Producing Fellow for its festival, the Leeds Storytelling Takeover, which was an excellent opportunity to explore the possibilities and challenges of the contemporary UK storytelling scene.
Cardiff has been a wonderful backdrop to my academic endeavours, offering a vibrant cultural centre.
I've loved getting to know members of Cardiff's theatre, storytelling and arts communities who have been incredibly welcoming. In addition to making several lovely friends, I've also had the opportunity to explore the possibility of a workshop production of my Mabinogi-based play, Trailing Rhiannon.
The School of Welsh is a truly special and tightly knit community. As a student here, I've been encouraged to tailor my studies to fit my interests with generous guidance and mentorship. I've also found a wonderful community of friends within the MA programme cohort, who have made me feel very at home in Cardiff.