Trek to Connect: how geocaching is generating a love of history
12 July 2016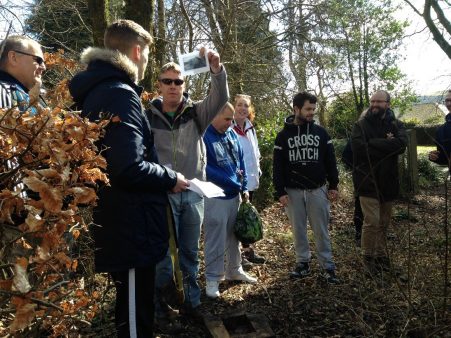 Blog by Dr Eva Elliott
It all started with a group of men from the North of Merthyr Tydfil who, for different reasons, were unemployed at that time.  Their interest in geocaching originated in a project called 'Come Outside' which was delivered through Natural Resources Wales.   This project aimed to promote physical activity through engagement with the outdoor environment.  The surrounding area is indeed beautiful and it is one of the many local assets that people enjoy.  However it was the rich historical landscape, and the invisible stories that it holds, that captivated the men involved.
Geocaching is an outdoor physical activity which involves using mobile GPS tracking devices to local 'caches' which are often in the form of a waterproof boxes containing, at a minimum, a notebook and a log book.  The coordinates of the cache and details of the places of interest are then logged onto a listing site.  The caches may also contain objects, of low monetary but high personal value.  When someone finds the cache they will enter their details and other details or messages into the logbook and online.  There are currently over 2 million geocachers worldwide and it has become a vehicle for people to learn more about a particular place in their community and to promote interest in their area to outsiders.  More specifically it is a focus for an appreciation and learning of heritage.
The group have created a trail encompassing a number of historical sites in Merthyr Tydfil, which includes, Cyfarthfa Park, Ynysfach Engine House, Joseph Parry's Cottage and the recently refurbished Redhouse building.  The geocaching trail went live in July 2015 and has brought over a 1000 people to the different areas already, including new visitors from all over the UK and internationally.
Since then the men have looked beyond Merthyr and through SCHeP and the Pioneer Pilot, From Fort to Pit to Port, which links Communities First areas from Merthyr Tydfil and Cardiff, they visited the Caer Hillfort which is situated in Caerau in Cardiff.  They have enjoyed the opportunity to share their common interest in local heritage through a number of joint activities including a trip to the Celts: Arts and Identity exhibition at the British Museum.
Supported by the City Region Exchange pilot funding scheme, the men from Merthyr are now working alongside community members from Ely, Caerau, Butetown, Riverside and Grangetown to identify and share sites of historical interest.  Supported by the Glamorgan and Gwent Archeological Trust and the People's Collection Wales this will end in a common endeavor to identify and learn about sites of common historical interest between Merthyr and Cardiff.  To date children and adults, men and woman have been caught up in the excitement.
Another important benefit is its contribution to health and wellbeing, albeit by stealth.  People are making connections to each other, to the past and to the local environment and getting quite a bit of physical exercise thrown in.   Our hope is that the collective interest in the past will also create a group of connected communities who might also lead the way in thinking about what is possible in the future.
Eva Elliott