Introduction to Co-Production
5 June 2017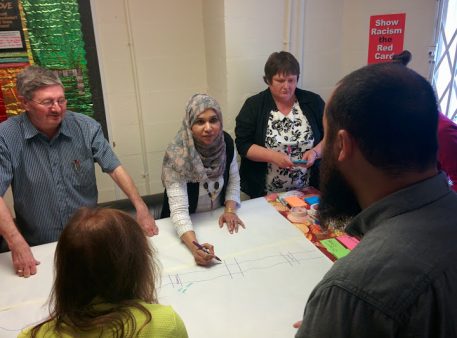 Written by Dr Martin O'Neill
For the past three years the team at Strong Communities Healthier People (SCHeP) have been working with local communities both in Cardiff and Merthyr Tydfil to develop approaches to support community development initiatives that seek to have a co productive approach at its heart. This approach has been developed by the team who have over a decade's experience of conducting participatory research with groups and communities.
The term co-production is increasingly becoming popular as an innovative way to deliver public services which achieve long term positive outcomes. It sits among an array of terms gaining currency in debates about the way communities function, how they can support residents and enhance well-being, and how public bodies can best engage with them.
This training will provide an introduction to working in a co-productive way.
The aim of this training is to provide participants with the ability to:
Understand  key elements of co-production, and the principles which underpin good practice.
Learn about the importance of strong community relationships and networks which support opportunities for co-production
Explore methods for facilitating engaging with and working with communities
Learn about processes for planning, evaluating and improvement for co-production.
The course will be delivered as two introductory sessions which can be taken together as an overall introduction to the co-productive approach or individually to explore certain aspects.  The course will be delivered by both academics and community development practitioners and will introduce the key theoretical concepts underpinning the co-productive approach and then illustrate these with real life case studies.
During the session taking place on the 12th July the focus will be on the methods, you can download a copy of the booklet which will be used to discuss this duering the session.
Case Studies
Community Involvement in Torfaen (recorded November 2015)
By listening to this podcast you will learn:
about challenges to undertaking community involvement in remote coummunities new to CF
how they involve people form the local Gypsy/Traveller and Nepalese
about the importance of community groups and networks to their community
Community Involvement in ethnically diverse communites (recorded June 2016)*
By listening to this podcast you will learn:
about the links exist between poverty and ethnicity
the importance of understanding, and shaping services to respond to, one's migration journey
about examples of effectiv engagement with ethnic communities in Butetown, Riversdie and Grangetown, and Swansea that have been developed in partnership with the communities
* includes a conversation with Duncan Holtom about JRF research into links between ethnicity and poverty
Importance of community 'gatekeepers' and circumnavigating cultural and linguistic barriers to engagement (recorded March 2016)
By listening to this podcast you will learn:
the importance of 'gatekeepers' in Community Involvement and support for them
the importance of, and challenges of, and challenges in finding, interpreters for reaching non-English speakers'
7th June Workshop will be delivered in collaboration with Russell Todd
12th July Workshop will be delivered in collaboration with Nathan Evans and Allan Herbert of South Riverside Community Development Trust
---
Comments