Fusion Networking Event
4 August 2016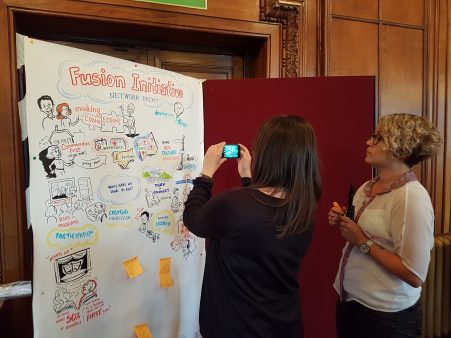 Blog: By Dr Martin O'Neill
As part of the continuing development of the From Fort to Pit to Port Fusion initiative on Monday 25th July we held a networking event in the historic Glamorgan Building which is now part of the Cardiff university campus.  The aim of the event was to provide an opportunity and forum for our various project partners to learn about current activity and to share knowledge and experience with the hope that this can lead to the development of future activity and new collaborative partnerships.
There was a very good response to the event with over thirty representatives attending and it provided a fertile forum for the development an exploration of new ideas. Some of the issues explored concerned the concept of culture and how communities engaged with and understood it how arts culture and heritage can be used to tackle poverty and how social media might be used as a way of both engaging communities but also for disseminating stories and activities.
In such a diverse and lively forum it can be challenging, to say the least, to capture, analyse and shape the discussion in a coherent way.  Following our previous experience we decided this time to pilot an innovative approach by using a graphic recorder. Graphic recording is the translation of discussions into images and text on large sheets of paper during meetings and events. At the end of the meeting, the large colourful mural can be photographed and the images can be used online, in videos, brochures, or as screen savers.
We were lucky enough to engage the services of Laura Sorvala AKA @_Auralab who has been working as a graphic recorder for a number of years and who brought an exciting and fun way of structuring our discussions at the event.  The beauty of the graphic recorder approach is it produces a record of the proceedings which is easy and fun to engage with.  Normally the proceedings of any meetings are recorded in a set of minutes which are text heavy and not normally the most engaging of documents.  By contrast, as you can see, graphic recording produces a visually attractive and text light record that is very easy to engage with.
Another of the benefits of the graphic recorder approach is that it produces an artifact that in itself can provide the focus for further discussion.  We intend at our next networking event to use the graphic as a focus of discussion and as a way of monitoring and evaluating of the Fusion initiative is proceeding in the direction identified by project partners. The graphic recording artifact also provides a lasting record of how the project developed and the processes involved in coming to decisions which is very useful for project transparency.