Blog by Dr Eva Elliott: Merthyr's Magic World Half Marathon
4 April 2016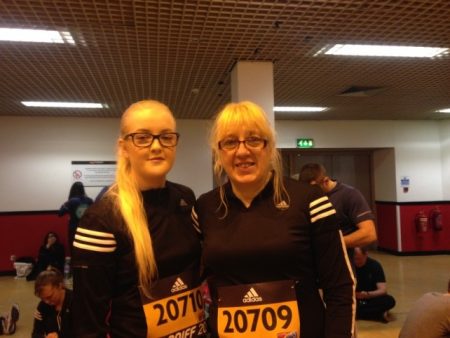 Well over a hundred people from North Merthyr Tydfil were offered free places to register for the Cardiff University World Half Marathon on 26 March.  These were not people who had to be persuaded to take part,  as soon as they heard about the event back in October 2015 they began training on the hills, round lakes and round their neighbourhood.
Many were very nervous as, like me, they had never taken part in a running event before.  However they described the support from Cardiff University as tremendous.  They have been training several times a week enjoying, in particular, stretching out with yoga exercises.  At a welcome event hosted by Cardiff University and Run4Wales at the Talybont Sports Centre in January they described to reporters the gruelling and sometimes hilarious experiences of learning to run seriously for the first time.  One man described how he fell into the lake in his enthusiasm!
On the day we were all nervous but excited.  The atmosphere in the Motorpoint Arena on Saturday morning was filled with nervous anticipation.  People chomping on free bites of energy bars to ensure that they would be propelled from start to finish with flourish.
Then there were the photographs and the opportunity to be seen with an Olympic champion.
Proud moments!
Then it was outside to mix with the crowds, dance to the music and be dazzled by the razzmatazz of the media.  This was it… and so was the weather.  The sky threw what it had on the runners as soon as the starting gun fired.  It was gruelling but the crowds cheered everyone on.  For some it appeared to take longer than it ought, others seemed to fly it.  Many did it in less than two hours .  Proud to say that every person I knew from North Merthyr finished the race.  I was relieved that I did too. Slow but successful.
And so what next?  I was in the 3Gs Community Development Trust building in Gurnos, Merthyr Tydfil yesterday.  The buzz was still there.  Everyone was asking if I was going to take part in the Cardiff Half Marathon in October (I did not think I would) as they were (oh dear, perhaps I should!).  So from novices to running devotees.
Stories like this need to be told.  The local community in Merthyr Tydfil are fed up of hearing about the bad stuff in the media.  Places that have been not benefitted from the fruits of economic growth know what poverty feels like.    Health is a casualty of economic inequality but people do not need to be told to take full individual responsibility for a long and healthy life.  Many are doing that anyway.