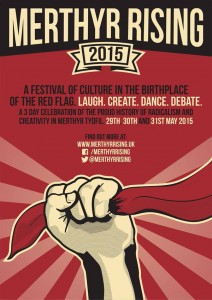 Merthyr Rising Festival 2015
The Waun Common Debates
30th May 2015, 10am – 3pm
At
Theatr Soar, Merthyr Tydfil
Tickets £5 (Limited number of Free tickets for Staff and Students)
The Strong Communities, Healthier People (SCHeP) initiative, one of Cardiff University's Flagship Engagement Projects, is sponsoring the Waun Common Debates as part of the Merthyr Rising Festival 2015. These will commemorate the spirit of the original debates held during the Merthyr Rising.  On 30 May 1831 at the Waun Common above Dowlais a mass meeting of over 2,000 workers from Merthyr and Monmouthshire discussed:-
Petitioning the King for Reform
The abolition of the Court of Requests
The state of wages in the iron industry
In the spirit of these original debates the contemporary Waun debates will explore radical ideas of our age and question what is considered to be orthodox thinking.
The Strong Communities Healthier People session will question the modern concept of economic austerity and how it is constructed and reported. Contributors include:
The session will be chaired by Dr Martin O'Neill from the School of Social Sciences and the community engagement lead for SCHeP.
In the spirit of the egalitarianism, radicalism and revolutionary spirit of the original Waun debates this event will seek to foster lively exploration of current economic and political issues.The event is free to attend.
Twitter @SCHePCardiff
FREE TRAVEL TO THE EVENT IS AVAILABLE:
To encourage  university staff and students to join in the debates with local residents, workers and activists free entry and coach transport has been organised to the Waun Debates.  The coach will depart at 9am outside the students union and will return at 4.30pm.  Coach availability is limited and a seat needs to be booked with Mel Evans on Evansm6@cardiff.ac.uk .  Allocation will be on a first come first served basis.
---