T-Shirt Weather
12 June 2015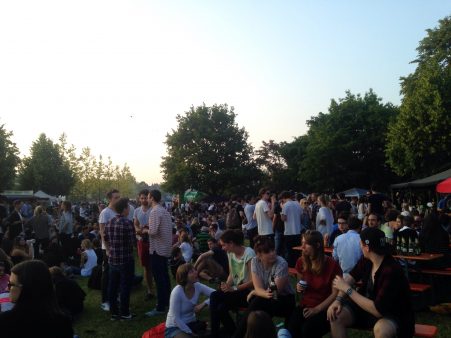 This is the first entry that I've written from my dorm room – which makes a pleasant change! At last the Internet is sorted!
The last few days have been interesting. When I last wrote, I'd just met up with my flat. To say I was apprehensive was an understatement – I think it has just hit me these last few days that I am in another country and I don't know the language. It is safe to say, that 'everybody speaks English', is a massive lie. Most people do speak a little English, but nowhere near the amounts that you initially think. I had lulled myself into thinking that it would be like Cardiff, where almost everyone speaks English. This was not the case.
That being said, my flat are great. Everyone has made an effort to talk, and it's really appreciated! Last night, Irmi asked me to this music festival that was happening on the campus. There were stalls selling food and beverages, the music wasn't bad either! It was a good opportunity to try some local foods that I wouldn't have the audacity to try and cook myself. I met some of Irmi's friends from Uni, and we hung out for a bit. It was a great experience – it would be great to have things like this back in Cardiff.
To get internet access, I had to register as a student at the University. It costs €130, but allows you free bus travel around the city, which is helpful. On speaking with a German professor, that is the only fee that students here have to pay – they have no tuition fees! I wish it was the same back home! I also had to have my EHC card validated. To hark back to the earlier point about the lack of English speakers, I had to try and explain myself in an insurance office, in broken German. I got there in the end!
Today, I've just been exploring the city. It's on the banks of the Danube, which is very picturesque. The water is an interesting, off-green colour – not like the Taff or Mersey I'm used to. There is a massive Cathedral, but I've not managed to get in yet – a task for the weekend.
The weather has been brilliant so far. Circa Waves are a band from Liverpool, and this song has most certainly been the jam of the day.
---
Comments