Plage
7 July 2015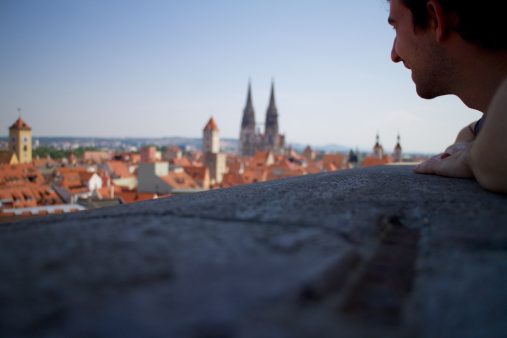 These last few days have been incredibly hot and also a lot of fun!
On Friday, it was about 36º, so we finished half day at the lab; it was too hot to work. I went for lunch with the staff in the department to the pizzeria at the university.
Later on that day, Fiona came to visit for the weekend, from the Czech Republic. It takes about 6 hours to make the journey, which isn't too bad, but it is longer than it takes for me to get back home to Liverpool! It was too hot to do much outside without sweltering, so we decided to go on a tour of the BMW factory in Regensburg, which is about 10 mins away from my dorm.
Photos weren't allowed, but it was a pretty cool experience to see how a car is made! The production line was insane – it was a combination of humans and (mainly) robots, welding the car bodies together; you could see them come together right before your eyes! It was a bit mad! There was one room between the painting stage and the assembly line, which held cars before they were finished. It was akin to a giant vending machine, with a robot arm that would come and select a car, and place it on the production line.
They said on the tour that they make a car every 57 seconds. The amount of dollars that place must make is insane!
Ever since coming to Regensburg, I have been recommended to go to a beer gardens for food. However, there seems to be a massive shortage of them near my accommodation, so instead we found a restaurant and ate there. I've not eaten out with someone in a restraunt in Germany before, but I think it's commonplace to bring dishes out when they're ready, and not together, so it creates a bit of an odd dynamic when half the people haven't got their food yet.
My supervisor, Andrea, told me that Regensburg used to have mines outside the city which have now been flooded and made into little beaches. We decided to give this a go on Saturday. We took the bus to Guggenberger See, the largest of these lakes, with a capacity of 1,100 people. Getting off the bus, it seemed like the middle of nowhere, and as we approached the location we'd been given, it did look desolate! Luckily, as we were loosing faith, we saw some cars. We crossed through some trees and were greeted with this!
The beach was fantastic, it was so refreshing! The temperature outside reached 45º apparently!
On Sunday, I was speaking to one of the guys in the flat, who mentioned that this tower in Regensburg. Apparently, there's a viewing platform on top of the bell tower, which you can go up and view around the city. It's was really cool to see the city from a different angle, but then it gets to a point where you can just see rooftops. It was an especially good view of the Cathedral.
Overall, the weekend was lovely. It's been really chill here, and quite nice to hang out it Regensburg! I think that Erasmus would be more fun if you were paired with someone perhaps, or even if there were some other English students. It makes such a difference, but then again, I suppose it would just be like going on holiday! I digress.
Anyway, this week I have more work in the lab, more immunohistochemistry and more microscope stuff! Then next weekend, I'm going to Hamburg with Yaw!
Here is a nice, summery, beach-y vibe for the rest of the week! Enjoy! 🙂
x
---
Comments