Hamburg
14 July 2015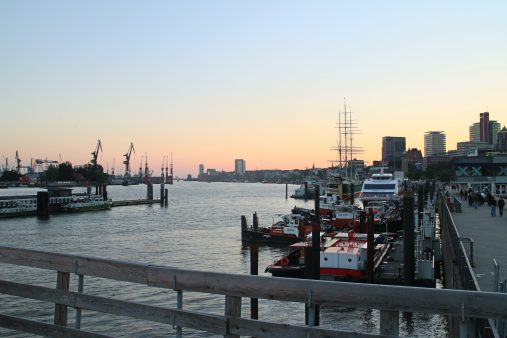 This weekend, I met up with Yaw (who is in Gothenburg, Sweden) and Chris (who is in Munich), in Hamburg. It was about 11 hours travel for each of us – it took me 12 hours by coach, which was no small feat, but it was fantastic to see them!
Firstly, this was a stop on the metro. I did not know this until recently, but apparently hamburgers are so called because they come from Hamburg! The same with frankfurters and Frankfurt! Mind. Blown.
Anyway, I met up with Yaw and we went for food. We were keen to try German food, and went to a restaurant called Erkia's Eck, which had been highly recommend by the internet. We had schnitzel which was very good, like a large flat piece of, (I think), turkey. Mine had a mushroom sauce, which was lovely :),
---
Saturday
Hamburg is an interesting city; I thought it was a bit like home. It is a massive port, the biggest in Europe. In the middle of the city, there is a giant lake, called the Binnenalster. We walked round the city, and trying to find it, but to our collective dismay, we discovered it to actually be two stops away from the apartment on the metro. The weather was fantastic – it was not too hot and not too cold.
 After the boat, we saw the entrance to this tunnel, which we had been told by our host Simon could be crossed on food.  It spans the river (the Elbe), and used to be the main way to crossing the river when it was built in 1911. It was open to cars until recently. Going through at about midnight with so few people about was a little scary, it was such an odd walk, especially to think how far under water we were. It was certainly a unique thing to do though, and even better it was free!
---
Sunday
On Sunday we started the day with a bratwurst – a German sausage. It was massive, and only cost €2
I really loved the visit to Hamburg. It was great to see Chris & Yaw again. It's gotten me very exited for September! Hamburg itself was a fantastic city. It had a real 60's vibe to it. The city buzzed with energy fostered by the docks; the unfaltering flow of people and the constant movement of the river induced an electric atmosphere, a magical mix that only the water can bring. It was beautiful.
The Beatles – With a Little Help from My Friends
---
Comments