Why pursue study at Postgraduate level at Cardiff University?
11 February 2019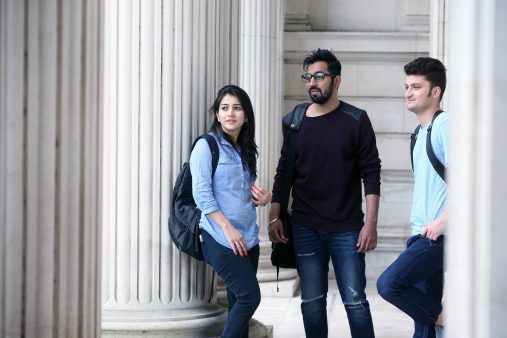 Some of our postgraduate students elaborate on why they chose to pursue study at postgraduate level, and what made Cardiff University stand out from other institutions offering postgraduate studies
Eimear, MSc Catalysis

I chose to pursue study at postgraduate level as there was still so much more to learn beyond undergraduate studies. Studying a postgraduate degree gives me the chance to learn far more in-depth knowledge and specialised techniques that there would not have been time to study at undergraduate level. It also opens doors in progressing to further study, as I hope to continue on to a PhD next year. Studying an MSc equips me with the skills I will need to succeed in research. Cardiff University was my top choice due to the excellent teaching staff and high quality research generated in catalysis. Cardiff is also a wonderful city to live in, as it's small enough to still have a lovely sense of community that some larger cities lack.
Jim, MSc Sustainable Building Conservation

Postgraduate is really the only choice to specialise in historic building conservation – and I didn't realise I was interested in the subject until I had a few years in practice under my belt! I chose Cardiff because of its reputation, its Russell Group standing, and the fact it is a lovely campus. The course focuses on sustainability – which is quite unique and attractive to me in terms of future career paths. Practically though – the course runs on two consecutive days once per month or thereabouts. This meant I am able to get time away from work to study. It was a winner all round really!
Adrienn, MSc Financial Economics
Firstly, at the time of my final year, I felt that my undergraduate degree did not explore my course in the level depth; I would have wanted it to. Therefore, I was eager to carry on studying it on a higher level for at least another year. I was also considering potentially progressing onto a PhD in the future. Secondly, a potential career path I was considering would have also required me to be in education for an additional year, therefore, I needed to progress onto a Masters degree. Generally, doing a postgraduate course left many doors open for me and allowed to pursue my interests in the field. Cardiff University was already one of my considered choices when I was in college, applying for my undergraduate studies. I wanted to go to a Russell Group university for sure and preferably to one which was not further away than 3-4 hours from my home town. I had visited the city before and I really enjoyed how lively it was back then. The University has the reputation for being very welcoming and having one of the best student guilds in the country, which I can completely agree with. I was looking for a place where I could get high quality education but also where I had good opportunities to meet new people and make friends.
Laura, MSc Data intensive Astrophysics
I chose to pursue a post graduate course to further my research experience. I wish to stay in academia and so real world experience and formal proposal training was a key skill I wished to gain. I am applying for PhD positions and I am able to show my presentation skills which I have already gained in my master's degree. I chose Cardiff because it was the only university to offer the specific Data intensive astrophysics course I wanted. I needed to build on my computing skills and this way I could stay in my profession but also grow my big data skill set. This was the main attraction for me to join the university.
Adam, MScEcon Politics and Public Policy
To further my career and as a new challenge – it's been ten years since I graduated at undergraduate level, so it was time to return to education. I chose Cardiff for its reputation and, being a local resident, it was an obvious choice. I chose my particular course as it is the logical follow-on from my undergraduate degree which also compliments my career.
Magdalena, Master of Public Health
I decided to undertake a Master's course to develop my knowledge and skills in a field that I would like to work in. A master's degree is also necessary for many jobs that are of interest to me. Cardiff University offered a really good course which is recognised worldwide. I was looking for a Public Health course that would offer a wide range of modules – from statistical methods to social sciences and found that Cardiff University offered just that.
Lucy, MSc Human Resource Management
The course offered by Cardiff to study my MSc (Human Resource Management) looked interesting and appealing; the modules are relevant and the teaching staff are all passionate and extremely well qualified. In addition, I know the business school is one of the best in the country. As I want a career in HR, a CIPD qualification is necessary to get into the best jobs and opportunities, therefore having the CIPD accreditation as well as a Master's was a bonus. As I had enjoyed my undergrad at Cardiff so much it made sense to me to carry on with my postgrad studies here too, and with the help of the scholarship, it worked out cheaper and quicker than completing the CIPD certificates separately. There are also lots of opportunities to do extracurricular activities and work experience at Cardiff, and I was able to carry on some of the roles I had within university and the students' union (student mentor consultant and student-peer trainer) from undergrad.