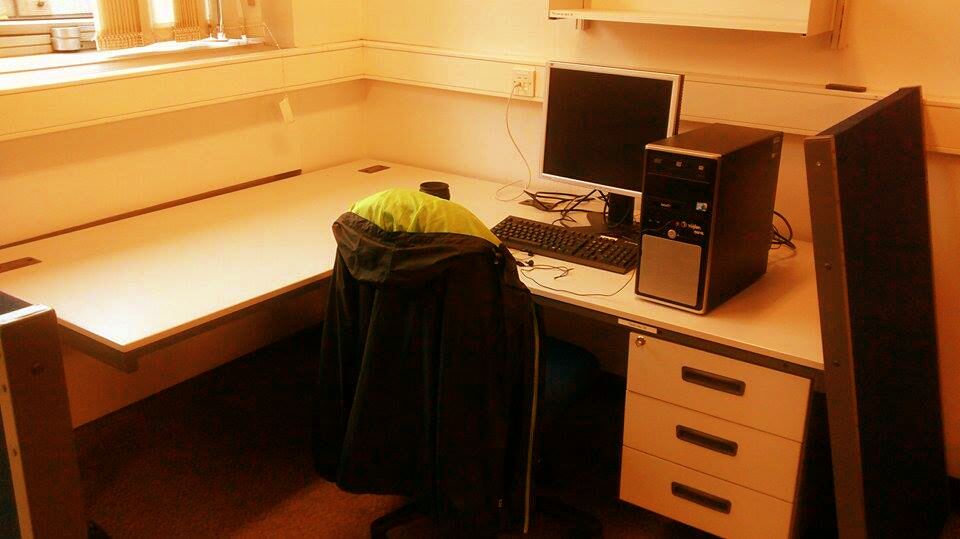 Given that this is my last blog post as a Masters student, I wanted to use it to reflect on the year I've had. The course has been challenging and really pushed me to my absolute limits! While that might put some people off, I wanted to get as much as was possible from this course and come away having grown from it. Therefore, in that sense, this course served its purpose. The rest of this blog post is just an amalgamation of random events that really stood out to me either because they were humorous or memorable for some other reason.
Hacking
The domain that I wanted to focus on in this Masters was Computer Security and this was reflected in my module choice (and the ten firewalls defending my personal computer). Due to this, the term started with lectures on stealing identity, recovering deleted data from all forms of electronic devices and sending Trojans to people (a bad thing that can be used to control the recipient's computer). This module was extremely useful and practical as not only did we learn about the theory behind possible attacks and defenses, but we actually attempted the attacks. So not only did these modules prepare us to face such attacks, but in understanding how easy they were, it gave us that cynicism found in all good security researchers (this also put us in the right mindset for our British citizenship tests).
Tweeting
In the second semester there were fewer security modules which meant that I also got to explore a few areas outside the security domain. One of the modules I took called "Web and Social Computing" focused on using data available from social media to create useful applications. For example, researchers in Japan have developed an application that examines Twitter for any signs of an Earthquake and alerts authorities as soon as it is aware of one. This application now detects earthquakes quicker than the meteorological agency in Japan (we need something like this to predict the weather in the UK). To provide an example in a very similar vein, I used data from Twitter to monitor and track where One Direction were going and what they were doing when they went there. Now I don't mean to eclipse the application developed by the Japanese researchers, but my application spoke of Zayn Malik's departure from One Direction before the media outlets (which, in itself, was an earthquake of unspeakable magnitude that the meteorological agency were also, unable to foresee).
Dissertation
Many people think of the dissertation as a hardship that one will inevitably encounter (like death) and have to overcome (unlike death. Too reflective?). However, this doesn't have to be the case. If, like me, you can at least vaguely identify the domain within which you'd like to do your dissertation (such as security, game development or, ahem, opportunistic networks), there is a much higher possibility that you'll actually enjoy your dissertation. Admittedly, it can still be tough to work on your dissertation since it does start during the summer time when everyone around you is donning the sun tan lotion to enjoy a day at the park in the lukewarm rain (In case you forgot, Cardiff is in Wales). Thankfully, I took the time to find a topic for my dissertation that involved technologies I wanted to learn about. The only slight problem with the topic I chose is that it involved a language I knew very little about on a platform I was unfamiliar with in a domain I had never studied. Normally, you probably shouldn't do this, however, the advantage of really pushing the boat with your dissertation is that you're likely to gain a vast amount of knowledge in a very short space of time. I find this very attractive as I enjoy being a jack of all trades but master of none (although, ironically, I am starting a PhD in October).
It also helps to find a supervisor you'd feel you get along with. The dissertation stage in your degree can be a very lonely time (we're talking Akon lonely). Undergraduates leave, libraries are empty, there's no queues in Lidl and suddenly the "Ultimate Breakup Songs" playlist is Spotify is looking pretty attractive. Some weeks the only real conversations you'll have are with your supervisor (and the checkout assistant at Lidl) and therefore you might find yourself actually looking forward to your meetings with your supervisor (really hoping this wasn't just me). I particularly enjoyed my supervisor's sense of humour and the incredibly cynical nature of his advice (OK maybe this was just me). This meant that our meetings, rather than being something I tried to avoid, were like a breath of fresh air in an otherwise uneventful week.
Conclusion
This Masters degree has been short, stressful and incredibly fruitful. Due to its heavy focus on critical thinking and conducting academic research, the growth I've experienced during this Masters can not be overstated and I owe my position to study a PhD here to it. However, besides preparing me to undertake further research in a PhD, the Masters has given me the confidence to even go into a role where I am relatively inexperienced as I am much more adept at picking up new skills relatively quickly. So, hey, One Direction may not be one person short for too long.