The Welsh funding package can be hugely significant for postgraduate students
9 June 2020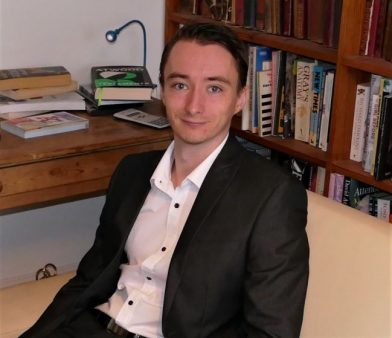 Patrick returned to Wales to pursue his postgraduate study at Cardiff. He was able to access the Welsh Government master's funding package to help him study a conversion course: MA International Journalism.
What are you enjoying the most about your postgraduate studies?
I think what I'm enjoying most is the challenge. I came onto my master's programme from a background in an entirely different subject and so I've had to start pretty much from scratch. This has made progressing through the year hugely rewarding and I've acquired some new skills which were completely alien to me at the start. There is also a great sense of teamwork and togetherness on my course. With many assessments requiring students to work together the class is constantly mixing with each other. This has allowed for a large friendship group to develop which has been a very valuable part of my postgraduate life.
What was your main motivation to study a postgraduate programme?
My main motivation for studying at postgraduate level was to obtain a specific set of expertise that I knew was needed in my field. As this subject was very different to what I had previously studied, it was also an opportunity to acquire another set of skills that would allow for more career flexibility. Although, I was progressing in my career, I also felt like I needed some time away to reflect on what I had achieved since finishing my undergraduate degree and reconsider what I wanted from life going forward.
The grant aspect of the funding was hugely significant and the master's would simply not have been financially viable without it.
What financial support have you benefited from?
I was eligible for Postgraduate Master's Finance which was a mixture of grant and loan. The grant aspect of the funding was hugely significant and the master's would simply not have been financially viable without it. Combined with a Maters of Excellence scholarship, the money I received allowed me to pay for the course and also provided me with enough of a financial buffer that I was able to enjoy some of the social aspects of university life. As the workload increased through the year, it was really important for me to hang out with my course mates and unwind. It also allowed me to get to know the city of Cardiff better and create memories outside of the same four walls of the study room.
What advice would you give to any other students considering postgraduate study?
Undertaking a postgraduate course is obviously a big decision. I would recommend people find out as much as possible about their courses before applying and do attend open days, if possible. For prospective students from Wales, I would certainly recommend looking into the funding options available here. With loans, grants and scholarships available there are plenty of ways to make the financial aspects of postgraduate study far less daunting.