Reflections: managing the MA and looking to the future
30 October 2015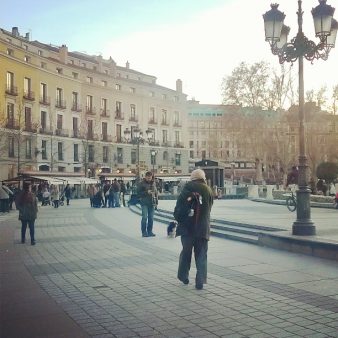 Since hobbling across the finish line of the marathon that is the MA dissertation, I have teetered between feelings of relief, the glow of achievement, and a sense of sadness that, for now at least, my time at Cardiff University has come to an end.
This year has been at once satisfying, sometimes stressful but certainly significant and definitely stimulating. The opportunity to undertake postgraduate study is an immense privilege; to be able to dedicate a year delving into the depths of your chosen subject, immersing yourself in research and learning about incredibly varied topics is enjoyable and hugely rewarding. In the course of my MA in European Studies, I examined contemporary European identities, translation and adaptation, the politics of memory, and post-Civil War Spanish political and cultural realities.
In this way, my masters has given me skills and a solid foundation of knowledge that I hope will serve me well into the future and will hopefully propel me towards my end goal of starting a PhD. One of the most significant things I've learnt throughout my masters was the importance of questioning and analysing received knowledge and the need to promote and push for a plurality of perspectives and voices in academia, and in culture more widely. One of the essays I most enjoyed focused on the ways in which narratives and borders have been constructed around historical and cultural debate, such as in the case of the Spanish Civil War as explored in my dissertation. In my dissertation, I hoped to emphasise the need to engage with the multiple experiences of women in the Spanish Civil War and under Francoism, in order to exhume different histories and present a more multifaceted history.
What am I doing now?
Since finishing my MA this September, I have moved to Spain and am currently living in the beautiful Andalusian city of Cordoba. I am working as a languages assistant in a sixth form and so I'm spending a lot of time as a classroom cultural representative of the United Kingdom, which is often a greatly amusing role. The cultural differences that my students mention between the UK and Spain are enlightening: our predilection for tea, our reserved nature and our awful weather. I've also been told quite sincerely by one student that our food is terrible and that we are all greatly unhealthy.
Aside from my work at the sixth form, I am also working in an English academy and give conversation classes to students of many different ages and backgrounds.
Discussing the legacy of the Spanish Civil War with a group last week and being able to see first-hand the human realities of things I'd been researching for months was hugely illuminating and gave me a set of entirely new perspectives. My hope is to now further immerse myself in the culture I spent last year studying, in the hope of gaining inspiration for a PhD proposal.
I will certainly look back on my years at Cardiff fondly, both as a seasoned postgraduate and an anxious undergraduate, and feel grateful for the wonderful teaching, the great support and the inspiration to study a subject I love and hope to contribute to in the future.