Postgraduate Open Days and Choosing Postgraduate Study
21 January 2019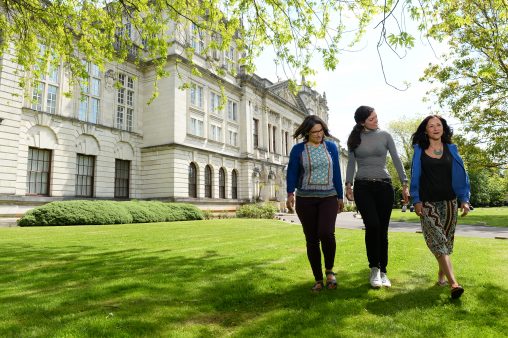 Some of our current students outline how our Postgraduate Open Days helped steer them towards Postgraduate Study at Cardiff University, and if they did not attend, how they found information to inform their choice of University and course.
Postgraduate Open Day
Lucy, MSc Human Resource Management
My advice based off my experience would be that the open days are valuable, particularly for those who haven't studied at Cardiff before, as there's lots of information such as finance talks, orienteering, things to get involved in, etc. Although I'd been a Cardiff student for 3 years, the finance talk in particular was very helpful and I would encourage everyone to attend those
Clara, MSc Sustainable Building Conservation
I attended one of the events and found it incredibly useful, being able to speak with a past postgraduate student really made me feel much more comfortable to apply for the degree. The almost drop-in set up was great to suit popping in after work. It turned out that it was a 3-1 to ratio prospective students to current student which I thought was great, keeping to these small groups allows everyone a fair chance to pose any questions
Eleanor, MSc Spatial Planning and Development
My main aim of visiting the university was to get a feel for what it offers in terms of the overall campus, buildings, people and city and whether I could see myself enjoying studying at Cardiff. My advice to prospective students would be to research before you attend the university and have a list of things you want to find out more about and go to these talks or stalls and ask lots of questions! As part of my visit to Cardiff I spent the remainder of my day exploring the city to see if it was somewhere I wanted to be which I think is a really important part of choosing a university
Find information to steer your choice
Michael, MA News Journalism
I found the relevant information via the course's website. I also asked people who I knew had enrolled on this course and they advised me to apply. I also compared what this course offered – NCTJ diploma and an MA – with other similar courses across the country and knew Cardiff was the perfect place to be. My advice to prospective post-graduates would be to have a thorough look at the website and email the course director for any follow up questions. If you are fortunate enough to know someone who also enrolled on your course then most definitely ask them about their experience as this was a deciding factor for me.
Magdalena, Master of Public Health
I completed my undergraduate degree here so I was aware of all the postgraduate opportunities and facilities in Cardiff. When choosing my degree, I focused on module content. It was also important to me that Cardiff has great facilities for postgraduate students such as postgraduate common rooms and study spaces. If you can, make sure you look out for those things if you attend an open day! They will probably be very useful during your studies.