Postgraduate Funding
11 February 2019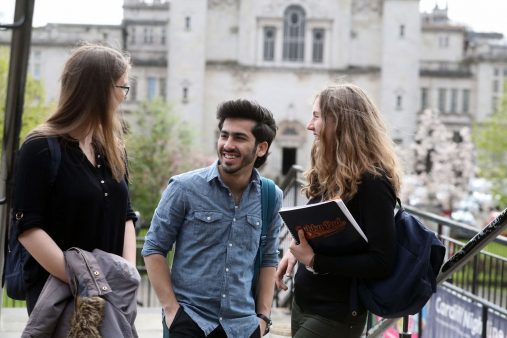 Funding is likely to be one of your key considerations when deciding to study a postgraduate course. As your personal situation is unique when searching for funding, on this post you can find advice from some of our current postgraduate students.
Top tips
Laura, MSc Eco-Cities
My biggest piece of advice is to be organised and confident in yourself. If you want to be successful you need to start looking at the deadlines for organisations and form some sort of timetable to help you send out all of your letters and emails – the last thing you want is to miss a deadline! Don't feel too disheartened if you get a lot of rejections, there is a lot of competition for this type of funding, but if you truly believe you are suited to a particular organisation, put all of your effort into the application and hopefully you'll be as lucky as I was.
Master's Excellence Scholarship and additional grants
Ben, MSc Operational Research, Applied Statistics and Financial Risk
With regards to finding your own funding, the first step I would recommend is looking at the University Website. You will often find university-wide scholarships available, just like the Master's Excellence Scholarships. You will find the eligibility requirements details and how to apply. Secondly, I would recommend looking at the website for your chosen school and speaking to members of staff there, because they will often know of external funding opportunities from councils and organisations related to your chosen area of study. For example, I am in the School of Mathematics, and through speaking to staff I found out about the OR Society's grant, one that is very large – it can provide a student with up to £10,600. There will often be opportunities like this from such societies and since staff in the department will be enthusiastic for you to join, they'll very likely recommend such opportunities. If there aren't said opportunities immediately available, you can use websites such as Scholarship Search UK in order to find them in a different way.
Kathleen, MA International Public Relations and Global Communication Management
Having chosen a degree that does not really qualify for a lot of grants, I decided to start by applying for the government student finance loan. Then I looked to the University and decided there was nothing to lose in applying for the Masters Excellence Scholarship. It took some time to craft my application, but for £3000 off my tuition fees (equating to roughly a third) it was worth the effort and drafting process. I found that noting down all the reasons and experiences that led to my decision helped to focus my application for the Scholarship, whilst also reaffirming my passion for why I was making the decision to study again!

I was lucky that I had a job and lived at home prior to studying again, so even though I was not highly paid, I got serious about saving! It put me in the student saving mindset early-on. Being sensible did not stop me from enjoying life, but it gave me a focus to make my student life easier so I could enjoy the experience with less limitations wherever possible.

Saving combined with student loan and the scholarship easing the tuition fee costs, also enabled me to find accommodation that would suit my studies and enable me to be independent again whilst maintaining a good quality of living. There's lots of choice in Cardiff so don't settle and make sure to do research as many companies have offers to draw your business so weighing up options is important!

I did consider getting a part-time job whilst at University, but so far I have not, instead focusing my time on my studies and utilising all the free talks and events my course and the University offers to make the most of my time and finances. My school is great at keeping us up to date about all opportunities both paid and unpaid that we can apply for alongside our studies, so the options is always there. The Student Union JobShop and Careers Service are also extremely useful in providing information about opportunities and offering advice and guidance, so if you do need to supplement your finances throughout your studies, then the support to help you to find that chance is there.
Postgraduate loans
Adrienn, MSc Financial Economics
I am receiving a postgraduate loan from Student Finance England and also getting a tuition fee discount as part of the Masters Excellence Scholarship. These pretty much cover my course fees and rent for the year. There is an extremely large amount of funding options available for students including loans, grants, scholarships and bursaries. As a general advice; make sure you are aware of all of these and know exactly how much you can get. THEN research how much your studies and living would cost. It may seem obvious but there are huge differences between rental costs across the country, between even 2 smaller cities. For example, rent in Cardiff is significantly cheaper than in Bristol but they are only an hour away from each other. Furthermore, make sure you budget a realistic amount and you are not cutting corners. Unanticipated expenses will always occur. For example, when I first went to university, I did not even think of the cost of joining societies. Depending on what university you go to, membership fees can vary significantly, especially for sport clubs.
Charities and government bodies
Charles, MA International Public Relations and Global Communication Management
The advice I would give to prospective students is to be proactive. There are fantastic funding opportunities out there, from charities to government bodies. In terms of applying for funding, be honest and proud of your achievements. There will be ongoing opportunities for financial support, so do not assume you have missed the opportunity for some form of support. My final advice to people applying for postgraduate study would be to consider the costs of the year in advance and prepare appropriately. Set a concrete budget for housing, tuition and living costs etc. Budgeting has helped me to use my resources well, and is a good exercise to practice in general! It is no secret that going to university isn't cheap, but it is a good investment in yourself that will pay off in the long run.
Self-funding and/or part-time job
Pierre, MSc Structural Engineering
I decided the best option for me was to try and get a part time job. Though instead of running for the first incoming position, I carefully marketed myself as a freelance engineering student. I was able to successfully land a very well paid position as a project leader for exo-skeleton technology development. I would definitely recommend this procedure to any student having difficulties funding their studies. It's a win-win situation, I can fund my studies as well as greatly improve my resume and develop my skills.
Sarah, MSc Education, Society and Policy
Having worked full-time before returning to university study it was really important for me to maintain some sort of employment during my Master's. Once I received my timetable, it was clear that I would have a few days free each week to fit in some paid work. I found employment through, Jobshop, which is the University run student employment service. I was able to sign up as soon as I was registered on my course, after filling out a simple online form I dropped into the Jobshop office which is located in the Students' Union to provide evidence of eligibility to work. Soon after this I began receiving regular emails with a wide variety of employment opportunities from one off shifts to more regular positions.
Magdalena, Master of Public Health
I worked full-time for a year before starting my master's degree which allowed me to save money and cover some of the costs. I've also been working part-time. It's important to keep a balance between working and studying, and I always prioritise my studies. However, my part-time job has helped me loads in terms of money during my master's degree. I also think it was a good idea to work full-time before starting my studies as I am now much less dependent on student loans.