Postgraduate Academic Experience
18 March 2019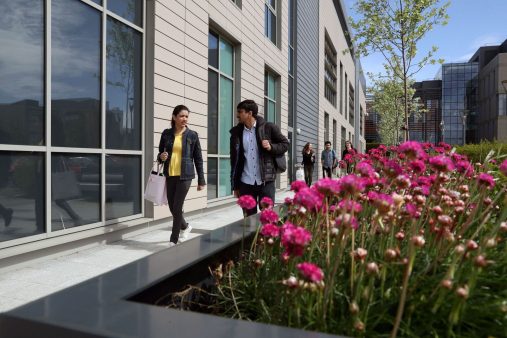 Here you can find out what some of our students enjoy most about their postgraduate programmes
Throughout the course I feel I've progressed as a writer greatly, workshops on the creative writing MA are a particularly helpful tool to improve whatever you're working on. I've found supervisor meetings for my dissertation portfolio's with Bob Walton really encouraging in terms of improving my confidence and having an experienced writer get to know me and my work. I'd advise prospective students to really be proactive and make use of all the support available to them at University to ensure they're getting the most out of their experience.
Overall, I have had a great experience on my course so far. Lectures are stimulating and interesting with a variety of teaching styles and methods, which are engaging. I have enjoyed the variety of content, which has got me inspired and motivated for my future career. The content and assessment on the course has been very practical in providing experience of creating work which is relevant to a career in planning, which I believe will be beneficial when I start work.
I really like how approachable the lecturers are, we have a lot of help from them while also learning to study and research independently. It is great that we have vast amount of books in the library and access to most of science journals. There are many flexible dissertation topics to choose from so it can be well tailored to the individual.

But most importantly the guidance that we receive from Dr Richard Lewis, who is the MSc Physics Program Coordinator, is invaluable. Without him the course would not be the same.
The course goes very very quickly! My advice to prospective students would be to try and be as organised as possible from the beginning – this really helps. The first week of the semester I print off a calendar for the next three months – I mark down when assignments are due, and when I need to start writing these assignments so that there is enough time to do them. Other advice would be to treat the masters as if it were a job – I work in the library from 9 – 6 monday – friday, take a proper lunch break – it gives you space to relax and take time away from work for a bit. Treating it like a job and trying to maintain those hours has helped me manage workloads. Though, inevitably towards the end of the semester there will be a period where you have 3/4 essays due in the space of a couple weeks – try not to panic during these couple of weeks – maintain a healthy routine, make sure to speak to professors if you are struggling.

Mental health and emotional well-being are massive problems across all universities – advice for prospective students would be to try and seek help if it is needed. On my program, we are 5 students, so, once a month we have decided to put aside a couple hours to go and get coffee together and chat about how things are going, if anyone needs support, what people are struggling with etc. This has been really great and helpful.

Advice about the dissertation – don't panic if you start the course without any idea of what you want to right on. During the first semester maybe keep a little notebook where you write down what things you have enjoyed learning about (favourite books, articles etc.) and any small/big ideas that come to you. Just keep it ticking over in your head in the background. Then when you come to the second semester you can look through these ideas and go and speak to professors. I've drawn different mind-maps on A0 paper and taken this to my supervisor and has been really helpful for them to see my thought processes and to discuss ideas.
I'm really happy with everything on the course so far! I feel confident the things I've learned have set me up for my career in HR and like the essential information has been covered. The building (PTC) and lecture rooms are modern and well equipped, and the resources we have access to (such as business/law databases, panopto lecture capture, tutorials on IT programs) have been really beneficial. The staff on the course are really knowledgeable and passionate about the subject, and always happy to help. We've had some workshops on preparing for the dissertation stage and have recently sent off our proposal forms. I do feel preparing early for the dissertation is helpful, however, at times it has felt difficult managing writing the literature review and research proposal alongside learning content and having essays/exams for our taught modules. My advice for prospective students would be start thinking about your dissertation topic and speaking to staff/potential supervisors as early as possible.
What I enjoyed most this year was having a relatively small class. It allowed for much more discussion than my in undergraduate studies. Assessments were also more flexible, and we were encouraged to write on topics that were of interest to us, which made them much more interesting. As for your dissertation topic – make sure to think of it in advance, so that you can explore the idea and discuss it with your supervisor.