Maintaining a work-life balance: Postgraduate Life at Cardiff
15 April 2019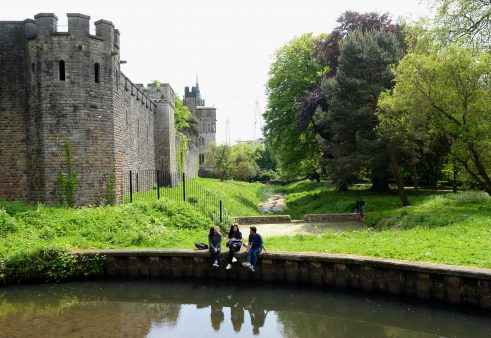 The great postgraduate experience at Cardiff University isn't just limited to the classroom. Here you can read about some of our students' experiences outside of their course.
As a postgraduate student it's important to maintain a good work life balance, and whatever your interests there are loads of clubs and societies in the Cardiff University Student Union. Personally I've joined the climbing and mountaineering club, they were super welcoming and have members from a range of degrees at undergraduate and postgraduate level. Climbing twice a week has helped me relax and build new friendships outside of the lab. Also postgraduate weekend trips are organised by the union to explore the areas surrounding Cardiff including cool trips to the Brecons and Stonehenge.
Languages for all is a very nice experience and it is very helpful for improving my language skills. I have been a member of Spanish Part 1 & 2 and now I have been accepted for Part 3 as well.
Additionally, since I am a Postgraduate student of the School of Architecture, I really enjoy studying in the Bute library and in the Friary House. They both have enough space and proper desks/chairs to feel comfortable and productive. In terms of support, I recently booked an appointment for careers and employability and it was extremely helpful as I improved my CV and cover letter. Lastly, I am a member of the Cardiff University tennis team, which helps me relax and enjoy my favourite sport during my studies.
Studying and working at the same time can be really challenging in terms of work life balance. At the start of the year, I made a weekly plan which had time allocated for studying, working and for my hobbies and rest. Sticking to it really helped me make sure I was still doing university work on a regular basis but without pushing myself too far and burning out. Of course, I sometimes had to modify my weekly plan slightly if I needed a few extra hours to spend on an assignment, but I made sure to have at least one day a week for just enjoying myself. I also joined salsa classes at the Student's Union which were fun, very social and a refreshing break from studying and working every week. The SU offers so many sports clubs and societies that I'm sure everyone can find something of interest to them!

Overall, I'd say that allocating time-slots in your weekly plan for university work but also for relaxing and hobbies is crucial. Finding the right balance is so important in life, and postgraduate studies can put a lot of pressure on you. Make sure you find something that will help you regularly unwind – Cardiff is full of options.
Having written for my Undergraduate University's student newspaper, I was keen to keep up my involvement in student journalism as a postgrad at Cardiff. I've been writing for Quench (the student magazine) since October, and it's been a fun and flexible way to get involved and explore more of what Cardiff has to offer. I've been fortunate enough to attend a few events for review at venues around the city and get to see more shows and events than my student budget might have otherwise allowed. I've also subsequently gone back to a number of venues to see productions and shows, as Cardiff has so many great venues to see and explore the arts in! There's always so much going on that there's something for everyone to take time away from studies to go and see.

I'm really fortunate to do a postgrad programme that has a built in speaker series module, where we have visiting speakers from across the industry come and speak to our class. However, I've taken as many out of class opportunities as my School offers as well, including all the evening speaker talks to pursue my former/outside interests. I'm really interested in the film and TV industry so being in JOMEC has provided the opportunity to hear from a range of high profile speakers from those worlds that I wouldn't otherwise necessarily have access to. It's interesting to hear their thoughts on topics, but it's also helped to inform areas of opportunity for my own career progression.
Throughout the masters year there have been a range of activities and events held for post graduates. This includes networking and academic opportunities which have been valuable. However the social events held at the student union have been the most beneficial for me in making friends and meeting post graduates colleagues. In addition, the Master's reps for the course have organised a range of "relaxed" gatherings for post graduate students including alcoholic and non alcoholic events. These have allowed me to gain the opportunity to meet course mates and share worries of the course
I think 'hustle-culture' is an unhelpful ideal. A lot of people fawn over the idea of long hours and hard work, but maintain a good work-life balance is very important. The biggest thing to relieve stress for me was to regularly exercise – be it running or joining sports team. Meditation is also a useful way of alleviating stress – just 10 minutes a day can really help