Dissertation Experience and Advice
26 June 2019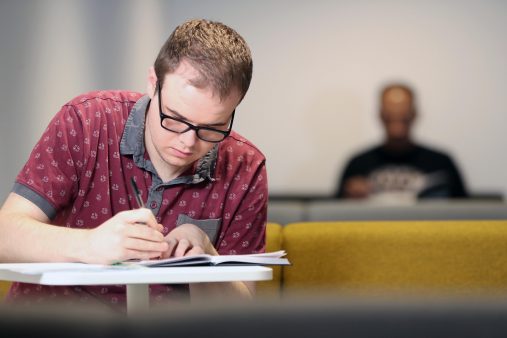 Considering postgraduate study? A bit put-off by the dissertation? Here, some of our students explain why the dissertation isn't something to be feared and give some tips on how to tackle it!
In comparison to undergraduate study the experience of carrying out the dissertation is much more led by you. Preparation is key, with it also being important to begin doing reading as early as possible – that way you know what topic you are really getting into. Do not be afraid to ask questions, the more you ask the better! It is easy to keep putting off the work as much as possible when the deadline is not until September. Also if there is an opportunity to go to conferences which help further your research you should go for it! They are good opportunities to network and learn more about the discipline you are becoming a part of.
The support is great – tutors are at hand whenever required to offer advice, but without being interfering. I think the process is being handled well, and is a vast improvement on my experience at another university at undergrad. Advice for those thinking of postgrad study – don't worry about the dissertation. In many ways, it is an easier experience than undergrad because you know what to expect. It is tough, but if you are doing a postgrad degree, it is in a subject you should really relish, and therefore it is a great opportunity to do something you love. Think of it as a positive, rather than something to be fearful of!
I've been really pleasantly surprised by all the support and encouragement available for my dissertation for my English Literature MA. My supervisor has always been available to me for advice on both content and writing style, as well as providing reassurance when I felt overwhelmed. We also have fortnightly dissertation workshops, which means that I regularly see other students from my course to compare notes, as well as having the opportunity to ask questions and discuss how to approach introductions, conclusions, time management, and general formatting. While completing the dissertation is certainly a daunting prospect at times, the support and advice available from my supervisor and peers have played a vital role in keeping stress at bay, as well as helping me to enjoy this final project and to see it as a rewarding, and even enjoyable, end to a wonderful year!
Unlike my undergraduate experience, you are expected to complete the dissertation over the summer months as opposed to studying in term times alongside other modules, which allows you to properly focus on the project. Moreover, the word count has been increased from my undergraduate degree from 8000 to 20,000 words, which (may appear daunting!) allows you to go into detail on a topic you are really interested in and become a real expert in your chosen specialisation. I would say to anyone who is put off undertaking the postgraduate study by the size and challenge of this final work, don't be! It is a real chance to genuinely shape an assessment around a topic that is engaging to you and properly caps off your postgraduate degree by demonstrating that you can do what academics often do.
I am thoroughly enjoying my dissertation, a crucial factor of which is the topic I chose to base the research on. I am looking into the Flat Earth movement. The literature I'm reading as well as the people I'm meeting have been incredibly interesting (they're a very open and nice community of people). It is perhaps a more challenging lifestyle than the previous two terms. Now that we are completely in charge of our own time with no contact time to provide structure it requires considerable organisation, proactivity and self-motivation to use the time effectively and live a healthy lifestyle. Having said that I am finding it incredibly rewarding, not only due to the complete freedom and control of your time, but also because of my investment in the subject matter. If you choose your research dissertation carefully, motivation will be less of an issue and enjoyment will come naturally. It's an opportunity to get stuck into a different challenge within an area of real interest you have.
Our course leaders have been very helpful and are always available to ask advice or discuss any worries with about the project. My discussions with them have really helped to clarify my research focus and define parameters around my work. Having done Joint Honours for my undergraduate degree, the longest work I had previously done was 8000 word extended essays. Therefore, this project seemed so daunting, it still does at times, but my tutors have helped to ease that. We also had a dissertation away day to talk through any issues and problems amongst our group, as well as with our course leaders, which was really useful and meant that we did not feel lonely or isolated in worry.

Our initial dissertation proposal was our first piece of work that we submitted at the start of the year, which did plant the seed of thinking about it right from the start of our degree. It was helpful to get the thought process at least started, as it gave us time to think through the project even once the proposal was submitted. I know this helped quite a few of my classmates as well, a number of whom changed their topic idea after reconsidering their initial work, but they were able to do so early on in the process rather than later this year which could have jeopardised the progress of their work.

I was worried about not having been in education for a few years between my undergraduate and postgraduate studies, and that effecting the way I tackle my dissertation. Yet, it has actually been useful in pulling in 'life' experience to think outside the box about sources for interviews (for example) as part of my research, helping to inform the project. You can use your individual experiences to mold your work.

Alongside the support of our tutors, there is also a great student support network amongst my own class and through the student union who run support classes and groups. Our school also has options for assistance, through the great library team as well as the literary fellow. They are only an email away to help if we need extra support. So, even though our lecture structure is no longer in place over the summer, the support is still there if you need it. Having a 15-20,000 word project or dissertation should not put anyone off from studying, at all! It's daunting, yes, but manageable and you're not alone in it at any point.