Dealing with dissertation doubts
13 October 2015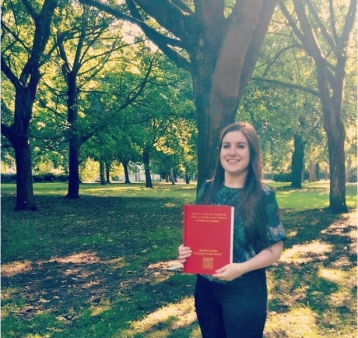 It is strange to think that I finished my dissertation a mere month ago as it now feels like a distant memory; a hazy montage of backpacks heaped with books, endless editing and caffeine. However, despite the stress and mild sleep deprivation of the final weeks, I can honestly say it was the most rewarding academic project I have undertaken. The feeling of dropping off my hardbound book, the fruits of months' worth of reading, noting and furious typing and the end product of an accumulated mountain of post-it notes, highlighters and biros, carried with it a great feeling of achievement.
I was very nervous to write my masters dissertation, having not written an undergraduate dissertation, and anxiously feared the ominous empty white page of a word document. The worry of not being able to fill 20,000 words filled me with dread. Yet, as the deadline swiftly approached, I struggled to keep my words within the limit as I felt so invested in my topic. So if you're undertaking a masters this year and feel worried by the prospect of the dissertation, here are my tips for pushing through what will be stressful but hugely fulfilling months of a research project.
1) Plan ahead!
This sounds obvious, but is absolutely vital. We had to give in a proposal at the beginning of February. Although handing in your proposal doesn't signal starting to write your dissertation, it is better to have an idea of what you want to research so you can spend time planning. Knowing what lay ahead meant that I was already thinking of how to use theory or ideas from my modules to enhance my dissertation. Think about which modules could be of use to your dissertation, either in content or in approach. You can also start reading around the subject when your timetable allows. Even if you don't take notes or read thoroughly, it's useful to have a sense of the existing research in your chosen field, so you'll know what and who to read when the time comes.
It is inevitable that the shape of the dissertation will change according to your findings and what interests you most in your research, but having a sense of the direction you want to go in with your project will save you a lot of time in the hectic summer months!
2) Contact people!
Be shameless. Send emails to academics who are writing in the same field or to writers if you are doing a literary project. I never expected that I would be able to get an interview with the author I was writing about but after a couple of days, an email from the author was sitting in my inbox. Having an interview or a comment from someone in the field will help give your research project the edge and locate it as part of current scholarship.
3) Spend time with others!
During the rest of my academic career, I really valued studying and writing alone but during this project, I really learnt the value of working and talking with others. Three and a half months of research and writing can get a bit lonely, particularly if many of your friends have not done a dissertation and don't understand the stress. Working with others and forming a library gang can keep you sane and also gives you people to talk through your dissertation with. Discussing your ideas with others really helps clarify your view and can strengthen your argument.
4) Have a balance!
Write a timetable and allow time to do other things. Be realistic about how long you will be able to work for during the day. Working slowly and unproductively just to make sure you meet your daily quota is will leave you unmotivated and exhausted long term and may in fact be counterproductive to finishing early. Give yourself time off and don't be too hard on yourself if you don't always meet your aims; some weeks will more productive than others.
5) Leave time for editing!
Last but not least, think about how much time you will need to perfect your dissertation. Finishing the essay itself is not the end point. Re-reading your essay, checking the clarity of your argument and editing out errors or awkward phrasing takes much longer than you expect! Also, bear in mind that it can take up to three working days for your dissertation to be printed, so leave a bit of extra time at the end to avoid any last minute panics!
Good luck!