Meet Ffiz the Physiotherapist!
26 June 2018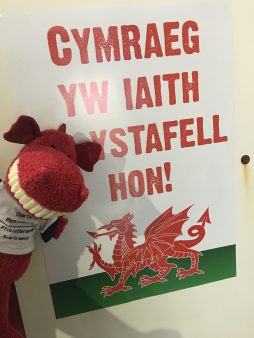 Last week at the Urdd Eisteddfod in Builth Wells, Ffiz made his first public appearance with us. Ffiz is the mascot of our physiotherapy team here at Physiotherapy Careers. His white polo shirt with blue collar and sleeves represents his status as a chartered physiotherapist- a uniform you'll commonly see worn by working physiotherapists in both NHS and private practice.
Ffiz is passionate about inspiring young people into an exciting career as a physiotherapist. He enjoys traveling around schools, careers fairs and meeting current physiotherapy students to share their stories. Ffiz is based in Cardiff but travels all over Wales and beyond on his physiotherapy adventures.
Ffiz's first official engagement was the visit the show ground in Builth Wells were the Urdu Eisteddfod was held last week. A great time was had challenging visitors to various physical activity and fitness games! When he wasn't busy entertaining, Ffiz took the opportunity to explore the show ground and see what was on offer. Have a look!
To read more about the Urdd Eisteddfod please click here!
Interested in reading more about what Physiotherapists do? Visit our post to find out more!
What do you need to be a physiotherapist? We've written all about it in this post.
Would your school or group be interested in a visit from Ffiz? Ffiz would love to meet you and tell you all about a career in Physiotherapy. If you'd like to arrange a visit, please email Natalie on johnn8@cardiff.ac.uk or fill out the contact form below.
Search this blog