Applying to university; GCSE & A Level options.
25 April 2018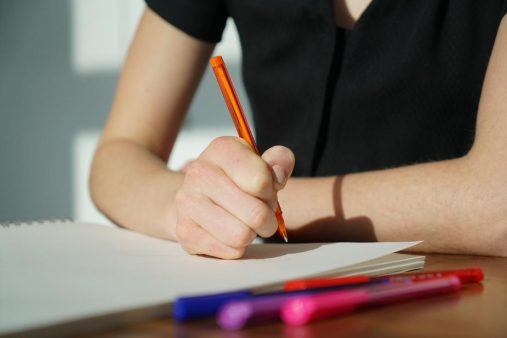 To read this in Welsh, please click the '
Cymraeg' Tab at the top of the screen.
In previous posts we have already explored the physiotherapy role, and finding physiotherapy work experience. This post will look into GCSE, A level and other qualifications that will help you achieve a university place studying physiotherapy at undergraduate (BSc) level.
Most universities ask for the similar academic qualifications for entry to physiotherapy undergraduate programmes, although we recommend you check the individual entry requirements for the institution you are interested in.
General Certificate of Secondary Education (GCSEs) 
You pick your GCSEs at age 14 to study in year 10 and 11 of school. When choosing your GCSE subjects, thinking about your future career interests can really be helpful.
Choosing your GCSE options can be a confusing time. In most schools Maths, English Language, English Literature, Welsh (if you live in Wales) and single sciences are all core subjects which means they are compulsory. You also have to do foundation subjects including Information Technology (Computers), Physical Education (PE) and citizenship- although these are usually shortened courses. Alongside your compulsory GCSEs you are allowed to pick 4 subjects that you would like to study.
Optional subjects vary between schools. You will be given a form listing all available subjects. As part of your options you can choose to include extra sciences. The core science subjects are biology, physics and chemistry- one science is compulsory, but you may pick all three if you desire. Other available subjects are: Art, Design and Technology subjects (Choice of Electronics, Food Technology, Graphics, and Textiles), Humanities, and Modern Foreign Languages (choices usually include French, German or Spanish), and PE.
When studying healthcare sciences, such as Physiotherapy, you will require at least 7 GCSEs grade A* to C (Grade 9-4) including the following subjects;
English or Welsh Language.
Maths
Science
You can use your GCSE choices to better prepare you for a career in Physiotherapy, choosing to study double or triple sciences will help prepare you to study advanced human sciences in university. Many choose to do the full Physical Education GCSE, but this isn't a requirement if you don't have an interest in sports (Physiotherapy is about a lot more than sports!). Some students have expressed that studying a language at GCSE level has really helped their communication skills.
Think carefully when choosing your GCSEs and remember that ultimately it's your choice! We recommend talking to your teachers and parents for advice and doing plenty of research into careers you may be interested in before you make your final decision.
AS and A levels
To go on to study Physiotherapy at university undergraduate level you will need to complete at least 3 A-levels. These can be done at a college or school sixth-form, and are usually taken between the ages of 16 and 18 (Year 12 and 13). When choosing A-levels, you will typically pick 4 subjects. You are then able to drop one subject after year 12, achieving an AS level, and go on to study full A-levels in the remaining 3 subjects. Your AS and A-level qualifications carry a UCAS score (Universities and Colleges Admissions Service) which will be important when you apply to university. To find out more about UCAS scoring, click here.
Using the Cardiff University Physiotherapy undergraduate course as an example, you must achieve an AAB at A-level, including biology. A-level grade requirements differ between universities, but you will usually always need three A-levels to apply, and this must include biology or human biology.
Other Qualifications
Universities will also consider the following qualifications for those who study outside of England, Wales and Northern Ireland or decide to take a less traditional education route.
BTEC, HND or HNC (including biological science).
Relevant NVQs.
Science based university access course.
Equivalent Scottish or Irish Qualifications.
A previous degree.
It is always recommended to check each individual universities' entry requirements for the above qualifications, and to contact the university admissions team if you are unsure. Don't forget, a good personal statement is also essential (see previous post)!
Have you recently chosen your GCSE or A-levels, or have you achieved a university place through other qualifications? Let us know your stories in the comments below or tweet us to share your experiences!
@CardiffUPhysio
---
Comments
Search this blog