Being a Physiotherapist: What will I do?
17 April 2018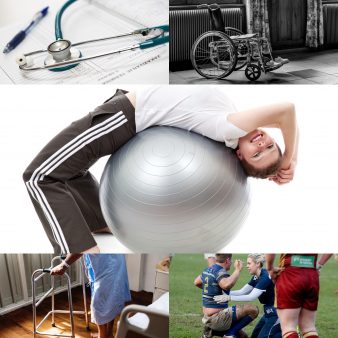 To read this in welsh, please click the '
 Cymraeg' Tab at the top of the screen.
It's an exciting time to work as a Physiotherapist. Your role is full of challenges but you'll find it rewarding and most of all- fun!
As a healthcare professional, you could work in many different environments. Most commonly Physiotherapists work within the National Health Service (NHS) but can also work in private healthcare, communities, sports, charities, universities and industry. In each setting, physiotherapists work in many specialist areas, such as:
Musculoskeletal (Bones, joints and Muscles injuries)
Orthopaedics (Correction of deformities of bones and joints)
Neurological Conditions (Problems caused by issues and injuries to nerves and the nervous system like stroke, multiple sclerosis, spinal injury and head injury)
Respiratory (Problems with the lungs and breathing)
Mental Health (Helping people diagnosed with mental health issues stay fit and healthy)
Paediatrics (Working with children with illness, disability and dysfunction)
Occupational Health (Helping people stay fit and healthy at work)
Learning Disabilities (Helping people with learning disabilities lead independent lives)
Elderly Care (Helping older people stay fit, healthy and independent)
Sport (Keeping sport players injury free, and rehabilitating injuries to return to sport)
Research and teaching.
With more and more people recognising the benefits of physiotherapy, the field is still growing every year! As a student physiotherapist, you'll have many opportunities to learn in different specialities and if you choose to enter the NHS after you leave university, you'll become a junior rotational physiotherapist. This means that every few months you'll move into a new specialty area. This is a great way to figure out which specialty is for you as you progress in your career.
Whilst in university, you will learn about human anatomy and function, about health, injury and different conditions, communication skills, research skills as well as plenty of different treatment techniques and equipment. All physiotherapy courses include 1000 hours of clinical practice, where you will be learning hands on out in the field with real working physiotherapists.
If you love people and can communicate well, you'll love the huge range of people that physiotherapists work with. You'll listen to clients to discover their problems and decide on which treatments will help them best to reach their goals- but don't worry, you won't be alone. Physiotherapists work in teams that include experienced physiotherapists, physiotherapy support workers and assistants to support younger and new physiotherapists to become the best they can be. Working as a team means the best care can be delivered to clients and patients in any setting.
In healthcare, research is always going on in the background, it is part of a physiotherapist's responsibility to stay up to date with research, and so you will always be learning and trying new things. It's what makes working as a physiotherapist so exciting! Many physiotherapists will attended courses and conferences to see what's new. Some will go on to complete further education in the form of post-graduate certificates and Master's Degrees in areas that interest them, but not all.
Down to the nitty gritty- does it pay well? In short, yes! A newly qualified physiotherapist can expect to earn in the region of £21,000 a year with yearly increases as you become more experienced. A very experienced specialist physiotherapist can earn up to £41,000.
Hopefully you have been given a small taste of what physiotherapists can do, and the lifelong career opportunities.
There are many sources of further information out here and we've provided some links for you here;
A Career in Physiotherapy – The Chartered Society of Physiotherapy
Physiotherapist – The National Careers Service
Physiotherapist – Prospects.co.uk
Physiotherapy Course – Cardiff University (For a list of all UK Physiotherapy courses, please click here)
Keep in touch and keep visiting us for further information on Physiotherapy careers!
 @cardiffUPhysio
Search this blog