Tissue engineering for human healing
10 January 2012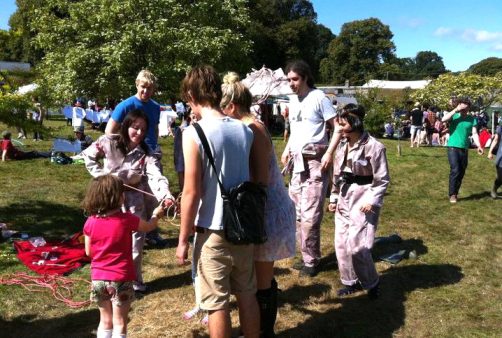 In 2010 and 2011 Professor Arwyn Jones lead a public engagement project sponsored by the EPSRC to highlight the multidisciplinary science involved in, and potential of, tissue engineering.
This £55K Partnership for Public engagement award "Tissue Engineering for Human Healing" was obtained with Dr Bob Steadman (School of Medicine) and Dr Pete Griffiths (School of Chemistry) and involved setting up tissue engineering exhibits at various locations and activities in Wales.
National Eisteddfod of Wales
The exhibit was launched at the 2010 National Eisteddfod of Wales in Ebbw Vale. There were a host of interactive and educational material on display at the Eisteddfod Science Pavilion throughout the week. This included a life size operations game and daily maggot races.
A new Stem Cell Puzzle went on display for the next major showing of this exhibit at the National Eisteddfod of Wales in Wrexham. The Stem Cell puzzle is now part of the Public Engagement activities at Techniquest Science Discovery Centre where it is also being used for training in public engagement as an exemplar of making research accessible and relevant to the public.
Green Man Festival
Tissue Engineering was also on display in a completely different format when Professor Arwyn Jones and his team joined up with The Green Man Festival and acting group Angel Exit Theatre. Cardiff University students (aka the Scar Hunters!) introduced key principles of wound healing by acting out the processes involved, using stage make-up to recreate skin lacerations.
Following the event, the organiser wrote to say: "Thank you so much for being involved with Science at Play this year in Einstein's Garden. I have had some great comments about the scar collectors including some people saying it was their favourite thing of the festival".