The Brain Games at the National Eisteddfod 2016
11 August 2016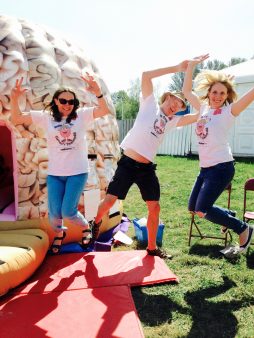 Thousands of people came through the doors of the science pavilion over the 8 days of the festival enjoying the multitude of activities on offer.
Uniquely, our activities where both inside and outside the pavilion with the BrainDome (a huge one-of-a-kind inflatable brain) and Colour Confusion Stroop mat proving very popular on the lawn whilst adults and children alike had weird and wonderful experiences with our taste twister and ghost hand experiences.
Our younger audiences thoroughly enjoyed the chance to make neurons and brains out of air dough, whilst older children and parents enjoyed the Story to Storage memory game in which they had to see how well they could memorise a range of objects.
 A huge and enthusiastic team of Cardiff University Schools of Pharmacy staff and students from Pharmacy and Medicine made this possible working along side welsh speaking medical colleagues from the Gymdeithas Feddygol and British Psychological Society funded by the
Coleg Cymraeg Cenedlaethol
and the
Wellcome Trust
.